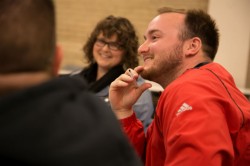 In January 2012 leaders in the School of Education (SOE) completed an external program review for the Adult Learning and Organizational Performance master's program. That's when they learned that the program was the "best kept secret in town."
"We brought in a consultant for quality improvement purposes," says Cristina Wildermuth, assistant professor of education. "He came back to say the program is great—the students and alumni rave about it, it's interactive and wonderful. He felt, however, that our name should reflect the program more accurately."
The newly named Master of Science in Leadership Development (MSLD) program launched this spring with four different emphases: Human Resource and Training Development, Human Resource Management, Higher Education Student Services, and a multidisciplinary track. Further, the program now follows its own competency model, which incorporates competencies from a variety of professional associations including the Society for Human Resources Management (SHRM), the prominent association for human resource professionals. Drake's MSLD program is the only Des Moines-area program approved by SHRM. Wildermuth says approval is not easily obtained, and SOE feels honored to be among the few schools to have a program to earn that distinction.
The MSLD model includes personal, relational, and strategic leadership competencies. Students complete a 360 assessment at the start of the program to determine where they are at in relation to the competencies. Each course focuses on one or more of these competencies. At the end of the program students will demonstrate how they have grown by creating a work product, conducting an original research project, or writing a publishable conceptual paper in their final capstone seminar.
Although the MSLD program is housed in the School of Education, this program is not solely for teachers or professionals in the education field. The multidisciplinary track is particularly flexible, allowing students to choose a set of courses that best fits their career aspirations.
For more information on the MSLD program, visit www.drake.edu/leadership or contact Cristina Wildermuth at 515-271-4701 or cris.wildermuth@drake.edu.
"The courses in the program were really intriguing to me," says Jennifer Soma, business leader in IDI actuarial and product development at Principal Financial Group. "Coming from the corporate world, people typically go for an M.B.A. or M.P.A. and I wanted to do something different. I thought the courses and the content matched my interests more closely."
Wildermuth says she's finding that students are excited about the multidisciplinary track because it allows them to cater their classes to their interests.
"All students will take the core 24 credit hours, but the multidisciplinary track will allow students who are interested in marketing, for example, to take some marketing courses as well," says Wildermuth.
Shari Turner, a paralegal who is currently in the Human Resource and Training Development track in the MSLD program, says the program has been an invaluable experience. It has helped her develop confidence both personally and professionally, and has provided her more direction in her career.
"I wanted a program where I could sit in a seat as opposed to doing things online," Turner says. "Online programs were going to be too restrictive. Plus, I knew I could do more with a degree from Drake. At Drake, I could tailor my classes to what I wanted, and interacting with the instructors and other students has been just awesome."