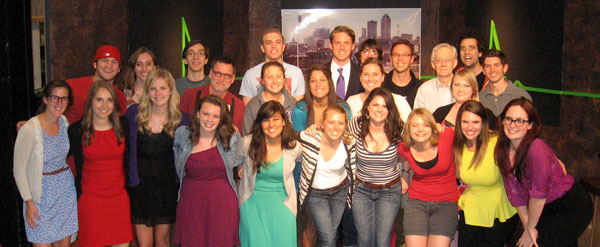 Twenty-three Electronic Media seniors executed the last of 12 successful capstone newscasts May 9.
 Students began producing DrakeLINE during alternate Spring Semesters in 1993. More recently the activity has occurred each Spring.
Radio-TV Producing seniors in JMC194 were primarily responsible for technical aspects of this year's newscasts, while JMC193 Broadcast News students reported and produced. Additional content was supplied by junior Broadcast News majors.
DrakeLINE 2014 seniors produce their first of 12 quarter-hour, live newscasts Thursday, Feb. 6. Until then, professors Evans and Lytle recover!
Click to enjoy the archived newscast, director's script and behind-the-scenes pictures.