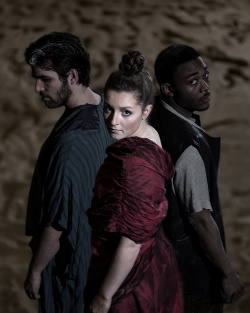 Drake University Department of Theatre Arts will present "The Burial at Thebes" by Seamus Heaney May 2–5 in the Studio Theatre of the Harmon Fine Arts Center. Performances start at 7:30 p.m. on May 2–4 and 2 p.m. on May 5. The show is directed by John Graham, assistant professor of theatre arts.
"The Burial at Thebes" was first performed at the Abbey Theatre in Dublin, Ireland on April 5, 2004. It was later adapted into the opera that premiered at the Globe Theatre in London in 2008, with music by Dominque Le Gendre and a libretto by Heaney. Similar to the classic Greek text, "The Burial of Thebes" is an adaptation of Sophocles' "Antigone," which focuses on the conflict between individual rights and claims of the state.
Admission is $5 for adults, $3 for students, senior citizens and those with a Drake ID. Tickets are available at the Fine Arts Center Box Office. Reservations, which are suggested, may be made in person or by calling 515-271-3841.
For more information on the performance, contact Adam Meirink at adam.meirink@drake.edu.