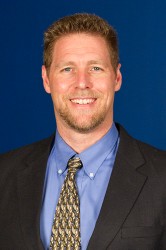 When Tom Ahart, GR'99,'13, returned to Iowa for a teaching position in the western part of the state more than 15 years ago, it didn't take him long to catch wind of the great educational opportunities at Drake University. Soon after, he enrolled in the Master of Public Administration program where he began building relationships with faculty and staff across disciplines.
In March, Ahart was appointed superintendent of Des Moines Public Schools, and he thanks Drake for helping him understand how to better serve students and teachers.
"Drake is committed to being part of the community and serving not just Drake students but the community in which Drake resides," Ahart says.
Ahart is currently working on his Doctor of Education Leadership at Drake. He says he admires Drake's student-minded approach for both undergraduate and graduate-level courses. Additionally, there are several class options and pathways to complete a degree, Ahart notes, and Drake evaluates its courses and programs on a regular basis in order to improve the student experience.
"I chose Drake because it was selective and there was a commitment to the cohort," Ahart says. "Sometimes people dismiss Drake at the graduate level because of cost, but Drake is very competitively priced. People make assumptions that aren't true."
Prior to studying at the University, Ahart considered leaving the field of education, but his Drake experience changed his mind. Ahart says the cohort model in his graduate programs helped build community and encouraged both student and faculty collaboration.
Early in his position as a principal in Des Moines, Ahart developed a partnership with the teacher preparation area in the School of Education, and this relationship has grown over the years. He hopes that Drake University and the Des Moines Public Schools will continue to look for ways to partner in the years to come.
Ahart's main goals for his new job include increasing retention of teaching staff and decreasing the number of students who open enroll out of the Des Moines Public Schools. His long-term goal is for the Des Moines Public Schools system to be considered the best urban school district in the country.