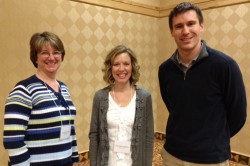 Drake SOE graduates Lois Woodward, MST '11 and Michael Mertz, MAT '12 participated in a student respondent panel in Ames, Iowa during the Iowa edTPA Conference on April 3, 2013.  Michelle Krogulski, Director of Student Teaching at Drake University, moderated the panel.
The edTPA is a preservice teacher performance assessment designed to evaluate a candidate's teaching skills. The assessment focuses on teaching decisions made by the candidate and the effect of those decisions on student learning. It is being developed by Stanford University faculty and staff at the Stanford Center for Assessment, Learning, and Equity (SCALE), with substantive advice and feedback from teachers and teacher educators.
In the state of Iowa, four institutions of higher education, Drake University, Iowa State University, the University of Iowa, and the University of Northern Iowa have been exploring its use during the pilot and field test stages over the past two years. Lois and Michael, along with a graduate from Iowa State University and one from the University of NorthernIowa, shared their experiences about completing the edTPA during their student teaching semester. They discussed how the format of the edTPA supported their decision-making process about instruction, while keeping their focus on student learning. In addition, they shared that the Teacher Education Program at Drake University, including the edTPA component, prepared them well for their current positions as licensed teachers.