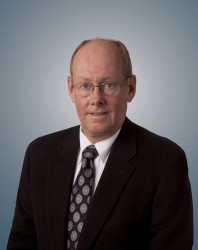 The highest honor given by Drake's College of Pharmacy and Health Sciences, the Lawrence C. and Delores M. Weaver Medal of Honor, will be presented to Dr. Timothy R. Franson during a ceremony on Wed., April 24. Franson, PH'74, will deliver the annual Weaver Lecture at the ceremony, which will be held at 2:00 p.m. in Sheslow Auditorium. A reception will follow from 3:15-4:30 p.m. in the Cowles Library Reading Room. Both events are free and open to the public.
The Weaver Medal of Honor recognizes an individual's dedication to making a substantial impact on the profession of pharmacy and the advancement of human health. It is presented annually to a recipient who has fulfilled one of the following criteria: the individual's efforts have advanced the education, research, or outreach mission of the college for the benefit of human health; the individual has made a substantial impact on the profession of pharmacy; or the individual has provided to the college significant financial support that has funded strategic change and progress. The award is made possible by the generous gift of Lawrence Weaver, PH'49, and his wife, Delores.
Franson is currently a principal in FaegreBD Consulting, where he is part of a rare disease team with a long history of providing policy, program development, and consultative support to rare disease stakeholders. Before joining FaegreBD Consulting, Franson worked as an attending physician and assistant professor of medicine, hospital epidemiologist, and consultant in infectious diseases. From 1986-2008, he worked with Eli Lilly and Company. First employed as an associate clinical investigator, he retired as vice president of global regulatory affairs at Lilly Research Laboratories, responsible for all regulatory and patient safety activities. Franson then founded and became president of Franson PharmAdvisors LLC, a clinical and regulatory pharmaceutical development consulting firm that merged with FaegreBD Consulting.
Franson was recently selected to serve on the National Institutes of Health's National Center for Advancing Translational Services' (NCATS) Therapeutics for Rare and Neglected Diseases (TRND) review panel. He was selected, in part, for his extensive experience in clinical and developmental grant reviews. He also serves as president of the U.S. Pharmacopeia Convention.
In addition, Franson has co-chaired FDA-industry committees, was a member of the AAMC-PhRMA Clinical Trials Forum, and has been a member of the Regulatory Advisory Board for the Centre for Medicines Research International. Franson is committed to numerous civic organizations, including serving as on the board of directors for Villages of Indiana and the Little Red Door Cancer Agency. During his career, Franson has authored over 50 articles in the fields of infectious disease, epidemiology, pharmacoeconomics and antibiotic utilization, as well as chapters in three textbooks.
Students, professionals, and friends of the University are invited to this event honoring Franson's contribution to the pharmacy profession.
For more information on the ceremony, contact the College of Pharmacy and Health Sciences at 515-271-1814 or marilea.chase@drake.edu. For information on the past recipients of the Weaver Medal of Honor, visit the CPHS website.