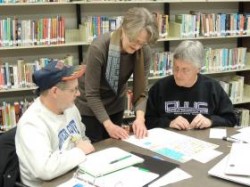 Anne Murr, coordinator of the Adult Literacy Center at Drake University, has been recognized as a 2013 Hero of the Heartland by the American Red Cross of Greater Iowa. Murr was honored this morning at a breakfast ceremony at the Hy-Vee Conference Center in West Des Moines, Iowa.
The Hero of the Heartland program honors ordinary citizens who are doing extraordinary things. Murr's involvement and dedication to the Adult Literacy Center at Drake has earned her a spot as one of this year's "extraordinary Iowans."
The Drake University Adult Literacy Center (DUALC) strives to improve adult literacy, "resulting in enhanced self-esteem, daily living, and life-long learning." The center has more than 100 volunteers from Drake and the greater Des Moines communities. These volunteers help adults read, write, and comprehend.
"It's wonderful that Drake gives us the opportunity to do this work," Murr says. "We've been here since 1976. The School of Education gives us the place to exist and we're grateful for that. Most especially, we're grateful for all our community volunteers who graciously give their time. We couldn't operate without the community support."
Murr's husband, and two tables full of Drake volunteers, tutors, adult literacy students, and friends, joined her at the breakfast ceremony this morning.
"Honors are wonderful," Murr says. "But, the work is better. All of the hugs I got this morning were better than the plaque. A lot of people make (DUALC) possible."