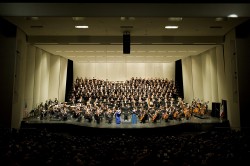 Nearly 300 musicians from Drake University will perform in the Des Moines Symphony as the ensemble celebrates its 75th anniversary concert "Celebrating All Things Drake!" on April 13-14. Because Drake played a significant role in the founding and development of the symphony, which initially began as the Drake/Des Moines Symphony, the concert will feature Drake musicians and honor this important partnership.
Each of the three pieces to be performed will feature Drake musicians. The Drake Symphony Orchestra, conducted by Akira Mori, will perform side-by-side with the Des Moines Symphony in the concert opener, Brahms' Academic Festival Overture. Clarence Padilla, chair of the Drake Department of Music and clarinetist in the Des Moines Symphony, will play the Concerto for Two Clarinets and Orchestra in E-flat Major by Krommer. The centerpiece of the concert will be Carl Orff's Carmina Burana, which will be performed by Drake's four choruses: Drake Choir, Chamber Choir, and Drake University/Community Chorus, all conducted by Aimee Beckmann-Collier; Drake Chorale, conducted by Linda Vanderpool; the Des Moines Symphony, a children's chorus from the Heartland Youth Choir, conducted by Barbara Sletto; and three soloists, all under the direction of Maestro Joseph Giunta.
The concerts will be held on Saturday, April 13 at 7:30 p.m. and Sunday, April 14 at 2:30 p.m. at the Civic Center, 221 Walnut Street. Tickets are available through the Civic Center Ticket Office and Ticketmaster. Ticket prices range from $15 to $44 for adults and $7.50 for students with a Drake ID.
For more information, contact Aimee Beckmann-Collier at 515-271-2841 or email aimee.beckmann-collier@drake.edu, or visit www.dmsymphony.org.