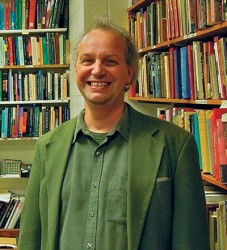 The Comparison Project brings Gereon Kopf, professor of Asian and comparative religion at Luther College, to Drake University for a special lecture on ways in which individuals and nations commemorate significant events. Gereon Kopf's lecture, "Buddhism and the Ethics of Memory," will occur on Wednesday, April 17 at 7 p.m. in Olin Hall, Room 101, 1344 27th Street. This event is free and open to the public.
Kopf uses the Nanjing massacre as a case study to identify and analyze four ways in which individuals and nations remember historical tragedies and political evil. The act of remembering for the Buddhist religion is central to a variety of Buddhist responses to suffering, and this lecture seeks to remind individuals that self-understanding is intimately tied to values. Kopf provides a theory that reveals connections between ideological commitments, religious ritual, and moral agenda.
Kopf received his Ph.D. from Temple University, and has conducted research and taught in Japan. As a research fellow of the Japan Foundation and the Japan Society for the Promotion of Science, Kopf conducted research in 1993 and 1994 at Obirin University in Machida, Japan and at the Nanzan Institute for Religion and Culture in Nagoya, Japan from 2002 to 2004. Additionally, in the academic year of 2008-2009, he taught at the Centre of Buddhist Studies at the University of Hong Kong. Kopf is also an author and editor. He is the author of Beyond Personal Identity, co-editor of Merleau-Ponty and Buddhism, and editor of the Journal of Buddhist Philosophy.
The Comparison Project, which is hosting the event, is an experimental effort in a philosophy of religion that is historically grounded and religiously diverse. It is generously supported by the Drake University Humanities Center, Humanities Iowa, the Medbury Fund, the Drake University Principal Financial Group Center for Global Citizenship, the Des Moines Area Religious Council, and Cultivating Compassion: The Richard Deming Foundation.
For more information on The Comparison Project, visit http://comparisonproject.wordpress.drake.edu or email comparisonproject@drake.edu.