School of Education faculty Sally Beisser, Ph.D. and Shelley Fairbairn, Ph.D., co-led a group of 9 to volunteer at the Holy Cross Anglican School in San Mateo, Belize during spring break. The "Teaching and Learning in Belize" trip allowed both pre- and in-service teachers to work with culturally dissimilar children over the course of three days. All participants were either currently enrolled or recently graduated from the Drake University School of Education.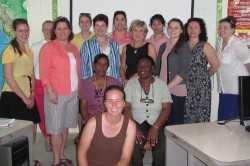 Trip participants were matched with Holy Cross teachers earlier in the semester in order to collaboratively plan for their time working with children ranging from kindergarten to grade 8. Lessons focused on plant germination, making connections during reading, and mathematics at a variety of levels. All participants came away from the trip with powerful insights.
One commented, "The 'aha' that I've had from coming down here…is that each student has their individual motivators for su
ccess… we need to find out what motivates each student to be successful and capitalize on those factors to gain trust and respect of the students and their families." Another participated stated "While at San Mateo, I was able to learn so much about the community and the children. Most of the kids just want attention and to be cared for. I was able to work with some of the strugglers while at the school. I learned that those 'strugglers' just needed some different models of how to learn the information. It was amazing to watch them look so happy and excited when they got the correct answer."
In addition to coordinating the volunteer experience at Holy Cross, Drs. Beisser and Fairbairn are collaborating with one trip participant; Adjunct Instructor Lynda Brown, M.S.E; to conduct a study entitled "Teaching Culturally Dissimilar Children: The Impact of a Short-term Global Service-learning Experience." Data was gathered during the trip and, after analysis, will result in a journal article and/or a conference presentation.