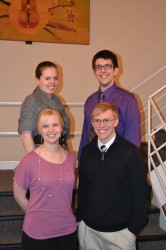 On Friday, April 5, Drake University music students will perform a special concert for Hunt Elementary School in Sioux City, Iowa. Following the concert, the elementary school will receive a set of unique Orff instruments and a $1000 scholarship to send their music teacher, Emily Cox, to study Orff-Schulwerk this coming summer. The instruments require a special training and the scholarship will allow Cox to learn how to best utilize the instruments in the classroom.
The student music professional organizations SAI and Sinfonia at Drake University worked together to raise more than $5,0000 during their fall 2013 "Practiceathon." The funds raised were to go toward a school in need of expanding their music opportunities. West Music Company in Coralville, Iowa partnered with the Drake students by donating part of the cost of the instruments, which has allowed the Drake students to use the balance of the money raised to offer a scholarship to one of the music teachers at Hunt School.
Representatives from the Drake organizations will perform a short informal concert at Hunt Elementary School on Friday, demonstrating the donated instruments: xylophones, metallophones, and glockenspiels.
Tom Sletto, assistant professor of music education at Drake University has acted as liaison between the various partners involved with this project. The Drake students who have been directly involved include: Bryan Hummel, project chair; fundraisers include Kelsey Tyler, Caitlin Podemski, and Spencer Russell, Bobby Starace, Sinfonia president, and Dana Sloter, SAI president.
For more information, contact Tom Sletto at 515-271-3195 or email thomas.sletto@drake.edu.