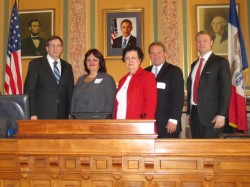 Drake University Law School welcomes Professor Maritza McCormack from the University of Havana Law School to campus this week. McCormack is the first Cuban law professor to ever receive permission from the U.S. government to travel to the U.S. since the federal embargo against Cuba began in 1962.
McCormack will spend the week at Drake University as a guest of the Agricultural Law Center—teaching classes, meeting with students and faculty, and identifying opportunities for further exchanges between Drake and the University of Havana.
"We are happy Drake can host this historic visit by Professor McCormack," says professor Neil Hamilton, director of the Agricultural Law Center, "As the leading agricultural law scholar in her nation she is playing a key role in the agrarian reforms helping create a new generation of Cuban farmers. Her visit to Drake gives our students the opportunity to understand the forces shaping the economic and legal reforms now underway in Cuba."
Hamilton has led two delegations of Drake Law students to Cuba in the last 15 months to study agricultural law and the food system. He says many Cuban law professors have been invited to the U.S. by other law schools, but McCormack is the first to receive permission to travel here. He hopes her visit will lead to additional collaboration between the two universities.
McCormack, who has taught for nearly 30 years, currently serves as vice president of the Cuban Agricultural Law Society and directs the only graduate program for agricultural law on the island.
For more information on Professor McCormack and her visit to Drake University, contact Neil Hamilton, director of the Agricultural Law Center, at 515-271-2065 or neil.hamilton@drake.edu.