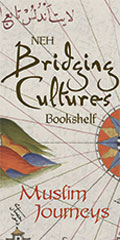 Cowles Library's bookshelves now hold the rich history and culture of Muslims from around the world. The National Endowment for the Humanities (NEH) has funded the addition of the Muslim Journeys Bookshelf to Cowles Library. The bookshelf is a project of NEH's Bridging Culture Initiative.
Cowles Library is among the 842 libraries and state humanities councils selected to receive the bookshelf, which features 25 books and three films about Muslim people, history, faith, and culture. The project also features a Muslim Journeys companion website, containing digital resources relating to the bookshelf.
The library also plans to schedule programming that introduces the books and Muslim Journeys themes to library patrons and the greater community. Focusing specifically on the topic of "Art, Architecture, and Film," the library will host either a speaker or present a public panel discussion about different aspects of Islamic art. Date and time for this event are to be determined.
"The programming opportunities associated with the Muslim Journeys bookshelf are an exciting way to engage not only the Drake community, but the greater Des Moines community as well," says Claudia Frazer, professor of librarianship and digital initiatives coordinator at Cowles Library. "Any attempt that we make to expand interactions between the University and the broader community aligns us closer to the core values of Drake's mission."
The Muslim Journeys bookshelf is presented by the National Endowment for the Humanities (NEH) as part of its Bridging Cultures Initiative. This is the first in a planned series of bookshelves that NEH is planning to offer libraries across the country.