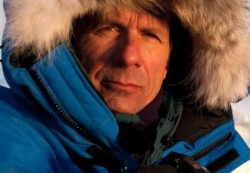 When David Courard-Hauri teaches Drake students about global climate change, he gives them several tools to understand the science. He gives them charts and equations and mathematical models. He instructs them on the physics of black body radiation and the chemistry that leads to the absorption of infrared radiation.
And that's all valuable information—but Courard-Hauri, associate professor of environmental science and policy, knows that if students are going to really engage with the subject, they also need perspective that makes global change tangible and impactful.
That's why Courard-Hauri is thrilled that James Balog, a world-renowned climate change expert and nature photographer, will deliver the Martin Bucksbaum Distinguished Lecture at Drake University this spring.
Balog, whose lecture will begin at 7 p.m. Wednesday, April 3, in the Drake Knapp Center, is founder of the Extreme Ice Survey, the most wide-ranging, ground-based, photographic study of glaciers ever conducted. His work, which clearly and dazzlingly tracks the impact of climate change on glaciers, is the subject of the critically acclaimed documentary Chasing Ice.
"What James Balog has done is take a story that everybody knows, in some sense, and make it real in a scientifically valid but also breathtaking way," says Courard-Hauri. "The images that he's captured are spectacular. And in his work there's also an element of the extreme—his is an adventure story as much as anything else."
Indeed, Balog's photography and footage has captured the interest of the world. His work on the Extreme Ice Survey has been featured in Audubon, Vanity Fair, and The New Yorker. National Geographic showcased his work in its June 2007 and June 2010 issues. The project is also featured in the 2009 NOVA documentary Chasing Ice, which won the award for Excellence in Cinematography for Documentary Films at the 2012 Sundance Film Festival as well as dozens of awards nationwide.
"Nobody has the kind of experience—and video footage—that Balog has," says Keith Summerville, associate professor of environmental science and associate dean of Drake's College of Arts and Sciences. "Whether or not people think global climate change is a result of human behavior, there's no doubt that change is occurring. What Balog does is chronicle this vanishing arctic environment."
The Bucksbaum lecture, which is free and open to the public, will be broadcast live online at www.drake.edu/stream. The public can participate in discussion using the hashtag #Bucksbaum on Twitter.
While on campus, Balog will also meet with a group of undergraduate students for an informal question-and-answer session. The invitation-only group will include students with an interest in climate change, environmental conservation, nature photography, and related academic areas.
Neil Hamilton, chair of the Bucksbaum Lecture Committee, says the committee selected Balog as its spring lecturer because Balog is sure to spark community conversation about a topic that is "very timely and addresses an issue of vital importance to society."
"Through his documentary film and his work on the Extreme Ice Survey, Balog is playing a central role in informing society and shaping public understanding on the issue of climate change," Hamilton says. "We are very excited to have him on campus."
The Martin Bucksbaum Distinguished Lecture Series brings individuals of international stature to Drake University to speak on significant current issues. The series is made possible by a gift from Melva and the late Martin Bucksbaum, longtime member of Drake's Board of Trustees.
Visit https://wwww.drake.edu/bucksbaum for more information, including a complete list of past lecturers.