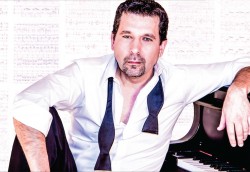 On March 4, Drake University will host a recital featuring acclaimed pianist, composer, recording engineer, and producer Sergei Kvitko. The performance will take place at 7:30 p.m. in Sheslow Auditorium, 2507 University Ave.
The recital will feature Kvitko's original interpretations of rare and exquisite classical piano pieces, including works by Bach, Granados, Mussorgsky, and Ysaye. This performance is part of Kvitko's "Road to Carnegie Hall" tour, a 14-city concert circuit that will culminate with a debut solo recital at Carnegie Hall in New York City.
Sergei Kvitko was born in Russia and began studying music at the age of six. After receiving his musical education there, he came to the United States to pursue a Doctor of Musical Arts degree at Michigan State University.
Kvitko boasts a diverse career as a pianist and composer, as well as a recording engineer and producer. His piano performances range from solo concerts and lecture-recitals, to appearances with orchestras as an accompanist. As a composer, he earned multiple awards for his music for the productions of Steven Dietz's Dracula and Tennessee Williams' The Glass Menagerie. He has produced and engineered over 70 titles for his own independent label, Blue Griffin, and his work has received praise from Fanfare magazine, American Record Guide, and Gramophone magazine.