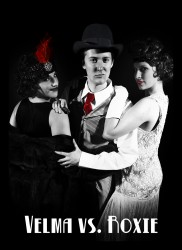 Drake University Department of Theatre Arts presents "Chicago" beginning Thursday, Jan. 24 in the Studio Theatre of the Harmon Fine Arts Center. The show runs through Jan. 26, 2012 and all performances begin at 7:30 p.m. The production is part of a January-Term project directed by Deena Conley, associate professor of theatre arts.
Set in the roaring twenties, "Chicago" follows infamous heroine Roxie Hart's rise to fame after convincing her husband to take the blame for the murder of her lover. Roxie competes with another "Merry Murderess," Velma Kelly, for all of Chicago's attention. With music and lyrics by John Kander and Fred Ebb and a book by Fred Ebb and Bob Fosse, "Chicago" is a fast-paced show that packs a punch.
"I think it's eerily timely. Our society tends to glorify celebrity murderers, the people who are not convicted, but if there was a public consensus, most likely would be convicted in the public eye," says Conley. "But for whatever reasons, legally, they escape from being actually convicted, and I think that's fascinating."
The rehearsal period for "Chicago" has taken place in the form of a January-Term course offered by the Department of Theatre. The production features both theatre and non-theatre majors both on and off stage.
"We wanted to attract as many non-theatre majors as possible because we know there are students who want to do theatre, but their own schedules keep them from it. It's something that they still love, and it's still a part of our job not just to educate actors and designers and directors, but also to create and develop an audience," says Conley.
This production contains mature themes including language, sexual content, and violence.
Admission is $6 for adults, $4 for students, senior citizens and those with a Drake ID. Tickets are available at the Fine Arts Center Box Office. Reservations, which are suggested, may be made in person or by calling 515-271-3841.