Dolph Pulliam, Drake basketball legend, retires in May
If you're even slightly familiar with Drake men's basketball, then chances are you recognize the name Dolph Pulliam.
Pulliam was a star player who earned himself a national reputation as a tenacious and sharp-minded athlete during his undergraduate career at Drake, 1965–1969. He's the one laying the ball up against UCLA's Lew Alcindor (now Kareem Abdul-Jabbar) in that famous photo from a 1969 Final Four championship game—labeled one of the "greatest near upsets in NCAA history."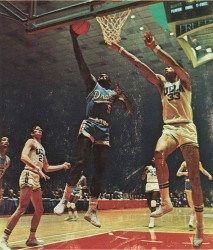 After graduation, Pulliam remained a loyal voice for the Bulldogs men's basketball team and mentor to hundreds of students. You may have seen him wearing a headset and a smile—and often, a blue leather suit—on the sidelines of men's basketball games, where he provided radio commentary from 1969–1993. He resumed those duties in 2003 and carries them forward today.
Indeed, Pulliam has been synonymous with the University and its athletics programs for more than 40 years. His contributions will be felt long beyond May 31, 2013, when he retires from his role as Drake's director of community outreach and development.
"Dolph leaves a lasting legacy on the Drake community and in particular on Drake Athletics," said Athletic Director Sandy Hatfield Clubb. "His daily presence will be sorely missed, but his positive impact will last forever."
'Thespian' and scholar
Dolph Pulliam came to Drake having played both football and basketball in high school. He found many of the skills he learned on the defensive line were transferable to the court. He was a "ferocious" rebounder, he says, and prided himself on being fairly physical on defense.
Sports writers dubbed him one of the greatest defensive basketball players in the nation. A reporter for the Des Moines Register, the state's largest daily newspaper, nicknamed him "Thespian" for his skill of misdirection.
"I used strategy and fancy footwork to keep you from getting the basketball, to set you up so you run into me, to fool you into thinking I was going to drive to the basket or take a charge," Pulliam says. "I was very deceptive on the court."
But when the game was over and it came time to hit the books, Pulliam was clear about his commitment to academics. He'd chosen Drake over a much larger Division I institution because he felt that school hadn't placed enough emphasis on education, while Drake's then-head coach had characterized academics as the most important aspect of a college career.
Back on the road with Drake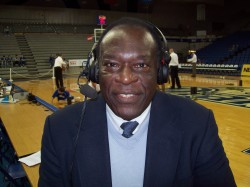 Pulliam graduated from Drake in 1969 but maintained his ties to Drake basketball. He was just one year out school when a local radio station, KRNT, named him the Bulldogs' announcer. That allowed him the luxury of following the team at home and on the road.
In 1989, he officially landed a job promoting Drake's athletics programs. Though he transitioned out of play-by-play responsibilities in 1993, he held his role in athletics marketing for more than a decade before moving into a position as ambassador between the University and the people, businesses, and organizations within the Drake Neighborhood. He remained a regular fixture at Drake sporting events.
One day in summer 2003, Pulliam was writing a welcome letter to the University's new head basketball coach, Tom Davis. He never had a chance to finish the letter, because Davis walked into his office at just that moment.
He wanted Pulliam to return to his broadcasting role—and more.
"He said, 'I want you to do the radio broadcast for us, but also to hang around with the team, tell them what it takes to get to the NCAA tournament and to the Final Four,'" Pulliam remembers. "'That's what I need from you. Who better to get this team back to the tournament than you?'"
With President David Maxwell's support, Pulliam re-dedicated himself to the basketball team. He attended practices and traveled with the team, sharing stories on the court and in airline terminals and bus stations. He accepted this role in addition to that of a community outreach ambassador for Drake—needless to say, it took much of his free time.
In 2007–08, Pulliam had the pleasure of seeing the team's hard work, and his own, pay off. He wore a blue leather suit at every game as the team won the Missouri Valley Conference regular season title and tournament, advanced to the NCAA Tournament, and finished the season with a school best win-loss record.
End of an era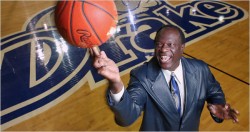 As Pulliam reaches the end of his Drake career, he says he'll always be an avid supporter of Drake athletics. But he'll be hanging up the commentator's headset and, sadly, he'll no longer be a fixture at practices and games. He's fully expecting another alumnus of the basketball program to step in and mentor the team.
"I did what I could while I was here to help keep this University on the forefront in college academics and athletics," Pulliam says. "It's up to the next classes coming up to make sure that Drake continues to be in the limelight."
—
Read more about Dolph Pulliam's childhood, time as a student-athlete, career in the Des Moines media, and his many contributions to the University in the spring issue of Drake Blue, scheduled to publish in April 2013.
—Aaron W. Jaco, JO'07, AS'07