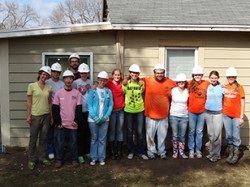 While most students use fall break as a relaxing weekend away from campus, 10 undergraduates embarked on a weekend of service this October. The new Drake-sponsored program, The Alternative Fall Break-Through: A Plunge into Des Moines, focused on social justice, service-learning, and exploration.
"Most colleges conduct service projects somewhere five or six hours away," says Mandi McReynolds, service-learning coordinator. "But we thought it was important to learn what we can accomplish within our own community."
Two student coordinators, Amelia Eckles, a senior sociology major, and Courtney Howell, a senior politics and sociology double major, planned the events in partnership with McReynolds. Both undergraduates work in Drake's service-learning office and participated in the Summer of Service-Learning and Social Justice Program this past summer. Amahia Mallea, assistant professor of history; Amy O'Shaughnessy, administrative assistant; and Danny Heggen of Community! Youth Concepts were also involved in the fall break project—they participated in the activities and led discussions with the students.
Each day was given a theme during the project—which took place from Oct. 12–15—such as cultural relativity, privilege, and sustainability.
Friday evening's activity involved a discussion and cultural food exchange with refugees from Burma and Bhutan, and Saturday featured volunteering with Habitat for Humanity's Rock the Block and dinner at an El Salvadorian restaurant. On Sunday, the students learned about sustainability by helping with the Buy Fresh, Buy Local campaign, while Monday's tour of Des Moines highlighted privilege and poverty. The group concluded the long weekend by visiting five service organizations focused on social justice issues around the city and participating in the World Food Prize Hunger Summit.
"We learned much about Des Moines and the need for help here," Howell says. "It was really good to make students aware of the opportunities that exist in our own community."
The students also enhanced their understanding of service-learning and social justice by reading related articles and engaging in group discussions.
Eckles and Howell conducted post-program surveys among the alternative fall break participants. Every respondent said the dinner with refugees and tour of social justice-oriented service organizations best helped them understand service-learning, and all participating students reported the Des Moines tour and restaurant experiences helped them understand urban exploration.
"As a leader, I couldn't have anticipated that everyone would get so much out of it," Eckles says. "Everyone was so open to learning, and to me, that's the most meaningful part."
After a successful first year, an alternative fall break is in the works for 2013, pending funding. This year's program was funded by Drake's Service-Learning Program and a grant from the Slay Fund for Social Justice, which was started by two alumni to support Drake's social justice programming.
"It was powerful to see students, faculty, and staff work together to cultivate service-learning, social justice, and exploration," McReynolds says. "And it was great to watch students take civic engagement further in our own community."
To learn more about alternative fall break and Drake's Service-Learning Program, contact servicelearning@drake.edu.
-By Gabriella Bedore, public relations major, class of 2013