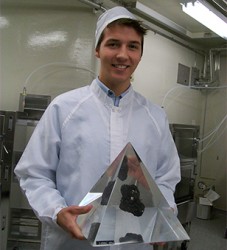 When Austin Howes began his search for a summer internship, he set his sights on the moon—literally.
Howes, now a junior majoring in physics and math, began creating a list of his "dream companies" to work for during his sophomore year. NASA topped the list, and after searching their openings online, Howes sent his name to everyone he thought could help him in his pursuit. After a long process of interviews, NASA offered Howes the opportunity to work in the Astromaterials Research and Exploration Science (ARES) department—he accepted without hesitation. Howes joined interns from around the world to work at the Johnson Space Center in Houston, Texas.
Howes spent his summer in NASA's lab, analyzing dust particles that make up the surface of the moon. The fibers are toxic to humans, so understanding their properties and size distribution is important when designing astronauts' suits. His research will also allow NASA researchers to further understand the geologic history of how the moon was formed. The samples he studied were collected during the Apollo missions.
"When I first started, I didn't want to touch anything," Howes says. "I didn't want to mess up 40 years of research. I felt like a part of living history because everything, all of the samples they've collected, are so valuable and timeless. I can't think of anything more priceless in terms of scientific inquiry."
Howes quickly found that even as an intern he would be conducting his own hands-on research utilizing the instruments and facilities used by NASA professionals. At the conclusion of his internship, he developed his own research paper—which is now in the process of being published—and presented his work to an audience of NASA experts. Howes credits his scholarly preparation at Drake with his ability to jump into the hands-on experience and give a professional scientific presentation.
"The physics program at Drake is very small, but small is by no means bad," Howes says. "The professors here are some of the smartest people I've ever met. In this discipline there are a lot of questions, but I've found that the personalized experience and resources I have at Drake can answer even the hardest questions. The atmosphere here is constantly challenging me, and that's the best way to learn."
Adina Kilpatrick, assistant professor of physics, has been a resource for Howes as he has progressed through the physics curriculum. Since the spring of 2012, Howes has collaborated with Kilpatrick on several biophysical projects in her laboratory.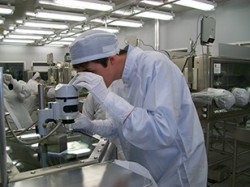 "Austin is very motivated, enthusiastic, and creative. He is a quick learner and is very hard working, dependable, and organized," Kilpatrick says. "Whenever he is in the lab, his passion and enthusiasm for science and scientific research is evident."
As a student ambassador, Howes encourages potential Bulldogs interested in math and science to consider the physics program. He's found that many students and families assume Drake may not have the same ability as bigger schools to offer opportunities at large organizations. But Howes proves those assumptions wrong.
"I love to share my experiences with families to help them see everything Drake has to offer," Howes says. "I think showing them what I've done, and what they can do, is the best way I can give back to this school in the immediate future."
Howes is on track to graduate in May 2014, but has no intention to be done with his education.
"My plan, as of now, is to go to school until I can't anymore," Howes says. "I would love to continue this lab work, tinkering with all the instruments, and figuring out everything I can. There are just so many things about the world around us that make me want to ask, 'Why?' I'm so grateful to have been able to do all of that here at Drake University."
-By Maria Opatz, public relations and advertising double major, class of 2014