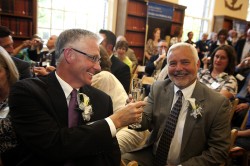 While you're getting together with friends and loved ones this holiday season, don't forget about your Drake family. Whether you join us on Dec. 15 to cheer on the Bulldogs against Iowa State or decide to honor a fellow graduate by nominating him or her for a National Alumni Award, opportunities abound to get involved with Drake this month.
Alumni are invited to celebrate Drake men's basketball prior to the Drake versus Iowa State tip-off at the Hy-Vee Big Four Classic at Wells Fargo Arena in Des Moines. The inaugural event features a doubleheader of Iowa's four NCAA Division I men's basketball teams. University of Northern Iowa and University of Iowa will begin the classic with a 1:30 p.m. tip-off; Drake and Iowa State will play immediately after, at about 4 p.m.
The Office of Alumni and Development will host a pre-party at Hy-Vee Hall from noon to 4 p.m. Drake graduates can watch the UNI vs. Iowa game, enjoy food and beverages, and mingle with fellow Bulldogs including former Drake basketball legend Dolph Pulliam
Reservations are preferred for the pre-party. RSVP online at www.alumni.drake.edu/bigfour. Contact Jessica Berger at 515-271-3935 for more information.
Before heading out to the Big Four party, nominate alumni for one of Drake's six National Alumni Awards. Outstanding graduates are honored for achievement, community service, and loyalty.
The Distinguished Alumni Award is the top honor bestowed upon Drake alumni. The distinction recognizes an individual's superior career or professional achievement and outstanding service to the community or University.
The Alumni Loyalty Award honors an alumnus or alumna for his or her commitment and service to the University while the Alumni Achievement Award recognizes a graduate for outstanding achievement in their career or profession. A Young Alumni Loyalty Award and Young Alumni Achievement Award are presented to alumni age 40 and younger.
Finally, a Community Service Award lauds alumni who have engaged in outstanding and meaningful community service projects or organizations.
"It's a humbling experience to receive this honor and a nomination is a selfless compliment you can bestow on deserving peers," says Zach Nunn, AS'02, 2011 Young Alumni Achievement Award winner. "It reflects as much on the caliber of the nominator as on the nominee."
Nominations are due Dec. 15. Supporting documents such as a resume or curriculum vitae can be mailed to: Betty David, Office of Alumni Relations, Drake University, 2403 University Ave., Des Moines, IA 50311-4505. Nominations can also be submitted online at www.alumni.drake.edu/alumniawards.
Winners are honored at a reception, inducted into the Dignitas Society, and recognized by the National Alumni Board for their service and accomplishments.
"The recognition from Drake is a true honor," Nunn says. "Perhaps equally important is the opportunity for the University to showcase living profiles in inspiration, opportunity, and association for alumni and the next generation of Drake leaders. The success of a single alum is a reflection on us all."
-Gabriella Bedore, public relations major, class of 2013