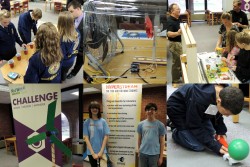 Eight scale-up STEM programs showcase their projects at a recent STEM Advisory Council Meeting and demonstrate how each program will engage students in STEM.
The Governor's STEM Advisory Council met Tuesday, November 13 at Drake University. The Governor's STEM Advisory Council is a partnership of business, policy and education leaders from across the state. It was established with the goal of increasing student interest and achievement in Science, Technology, Engineering, and Math (STEM) education and promoting economic development. The Council is co-chaired by Lieutenant Governor Kim Reynolds and University of Northern Iowa's President Benjamin Allen.
Earlier this year, the council identified twelve exemplary STEM programs that showed evidence of being able to positively impact student interest and achievement in STEM. Due to legislative support, these scale-up programs are currently being implemented across the state. During the meeting, representatives of the programs shared highlights and goals of their programs. After the meeting, council members, Drake faculty and staff, and invited guests attended a showcase of the scale-up programs. Eight of the programs brought hands-on materials to allow attendees to get a sense of how each program will engage students in STEM.
The eight scale-up programs in attendance at the showcase were Curriculum for Agricultural Science Education (CASE), Partnership for Engineering Educational Resources for Schools (PEERS), KidWind, HyperStream, Fabulous Resources for Energy Education (FREE), Corridor STEM Initiative (CSI), iExplore, and A World in Motion (AWIM).
Four of the programs brought teachers and students from local schools to share their experiences. Students were excited to share their opinions about the STEM programs. Nicole Craig commented "It's very interesting and we never do the same thing twice." When describing her experiences in STEM education Jackie Wieser, a student at Jefferson Intermediate School in Pella said, "I like how I can dissemble and rebuild. It's really hands on." Jackie and her classmates participate in PEERS, a program that demonstrates how professionals in business use scientific principles in their jobs.
One of the goals of STEM education is to provide rigorous, integrated content in a real-world situation. Brett Ratashak, a sophomore at SE Polk, highlighted the real-world applications when he stated, "It's not just agriculture based, it can be applied in other places in life."