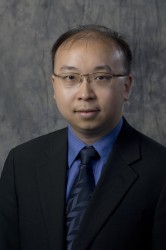 Peter K. Yu, Kern Family Chair in Intellectual Property Law at Drake Law School, will be featured at the annual Intellectual Property Strategy and Commercialization Seminar in Tel Aviv, Israel, on Monday, Nov. 19.
Yu's presentation, "Intellectual Property Protection in China: Same Old, Same Old or Is There Something New?" will explore the emergence of China as a patent powerhouse and offer practice-oriented tips on protecting intellectual property assets in China.
Also featured at this annual event are:
Marshall C. Phelps, Jr., the world's foremost intellectual property licensing expert and a former corporate vice president at IBM and Microsoft
Ralph Eckardt, the co-founder and managing partner of 3LP Advisors, LLC, and former head of the Boston Consulting Group's intellectual property strategy practice
During his time in Israel, Yu will deliver lectures on intellectual property law and policy in China at the Faculty of Law at the University of Haifa. He will also visit the law faculty at The Hebrew University of Jerusalem, giving a public address on "Intellectual Property and Human Rights." In addition, he will meet with the director of intellectual property law at Israel's Ministry of Justice.
Born and raised in Hong Kong, Yu is a world-renowned expert in international intellectual property law. He serves as the founding director of the Drake Intellectual Property Law Center, which has been consistently ranked by peers among the top 25 intellectual property law programs in the United States and one of the top five in the Midwest.
An award-winning teacher and a prolific scholar, Yu has delivered lectures and presentations in more than 25 countries. He currently serves as the general editor of the peer-reviewed WIPO Journal, published by the World Intellectual Property Organization, a U.N. specialized agency. He was also the agency's rapporteur on a project on intellectual property training and education. His scholarly publications have appeared around the world in multiple languages. His most recent piece about how the U.S. can maintain its global competitive edge appeared in the Des Moines Register in November.