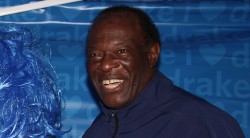 Dolph Pulliam, director of community outreach and development, will retire May 31, 2013, ending 24 years of service to Drake University. Pulliam began his professional career at Drake in 1989, but the Iowa basketball legend, media pioneer, and Dogtown community-builder made a mark on University history 20 years earlier when he graduated as one of the top athletes to ever don a Bulldogs jersey.
"Dolph's retirement will leave a void in the fabric of Drake University that can be filled only by our lasting memories of, and great appreciation for, all that he has meant to Drake," says Drake University President David Maxwell. "He is an icon of what Drake aspires to be in the lives of the young people who enroll here, fulfilling his dreams as a student, as an athlete, and as a professional with a deep and enduring commitment to the University and to our community. We are deeply grateful to Dolph for all the many ways in which he has enriched our lives."
Pulliam, originally from Gary, Ind., attended Drake from 1965–1969. He played basketball for the Bulldogs and was part of the 1969 men's basketball team that finished third in the NCAA championship tournament. The team's near-upset of the UCLA Bruins—helmed by Lew Alcindor, later known as Kareem Abdul-Jabbar—is hailed as an all-time highlight in NCAA history. Upon graduation, Pulliam had offers to play for the Boston Celtics and the Dallas Cowboys.
Instead, he remained in Des Moines and became the first African American radio and television news broadcaster in Iowa. Despite widespread opposition from viewers, Pulliam went on to anchor the mid-day news, and hosted two children's shows: One, Two, Three and Dolph's Cartoon Corner.Upon joining Drake's staff, Pulliam took on the role of marketing and promotions director for athletics, eventually transitioning to his current position. Through his work Pulliam has hosted and produced the Beautiful Bulldog Contest, a Drake Relays tradition that gains annual international media attention, for 19 years. He also developed or led a number of community outreach initiatives, including Halloween Hoops, the Holiday Food Basket program, Drake's United Way fundraising campaign, and the Holiday Wish program.
Pulliam is also heavily involved with several community organizations, including the Drake Neighborhood Association, Character Counts, the Prairie Meadows grant committee, and Boy Scouts of America.
"One of my proudest accomplishments was helping to revitalize the neighborhood around campus and strengthening the relationship between Drake and the surrounding community," Pulliam says. "When I leave, I can rest easy knowing that I've helped to make a difference in the neighborhood, in Des Moines, and in the state."
Maintaining his ties to Drake basketball, Pulliam was the radio announcer for the team's games from 1969–1993; he then returned to the radio airwaves in 2002 to once again give the play-by-play during Drake men's basketball games. A charismatic and unfailing fan, Pulliam is known for wearing a blue leather suit to every men's basketball game during the 2007–08 season, when the Bulldogs advanced to the NCAA tournament for the first time since the 1970–1971 season. Pulliam will also retire from his role as announcer at the end of this year's basketball season.
"Drake gave me maturity and the confidence in myself as a young man, coming out of the inner-city," Pulliam says. "Drake made me the man I am today, so I am forever grateful to this University."