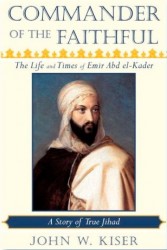 As part of its ongoing efforts to bring more diverse religious understanding to campus, The Comparison Project will host a lecture by award-winning author John Kiser at Drake. Kiser will present "Loss and Suffering with Dignity: Abd el-Kader's Jihad with France" on Nov. 14 at 7 p.m. in Olin Hall, Room 101. The event is free and open to the public.
Kiser is the author of numerous books, most notably The Monks of Tibhirine: Faith, Love, and Terror in Algeria, which won the 2006 French Sloe Prize and is the basis for the 2010 Cannes award-winning film, Of Gods and Men. His other prominent work is Commander of the Faithful: The Life and Times of Emir Abd el-Kader. The book inspired the Abd el-Kader Education Project, which is aimed at raising awareness of el-Kader and promoting a counter narrative to the negative images of Muslims, in Elkader, Iowa. The town is named after the historical figure.
el-Kader fought European colonialism in North African in the mid-19th century, and obtained notoriety by saving the lives of lives of thousands of Christians and members of the European diplomatic community who were the object of a local pogrom in 1860. Kiser's presentation will review the highlights of el-Kader's life during war, peace, imprisonment, and exile, and explore how faith and higher knowledge strengthened him as he suffered defeat, betrayal, and loss. Kiser will show how the emir's exemplary life of faith-based moral leadership brought him worldwide acclaim.
Created by Timothy Knepper, associate professor of philosophy at Drake, The Comparison Project aims to bring greater awareness of religious diversity to the Drake campus and surrounding community. Each year Knepper will organize a series of scholar lectures, practitioner dialogues, and comparative reflections on a particular religious topic or problematic theme. This year's programming focuses on religious responses to suffering.
The Comparison Project is supported by the Drake University Humanities Center, Humanities Iowa, the Medbury Fund, the The Principal Financial Group Center for Global Citizenship at Drake University, the Des Moines Area Religious Council, and Cultivating Compassion: The Richard Deming Foundation.
For more information and upcoming events, follow The Comparison Project on Facebook and Twitter or visit the Project website.