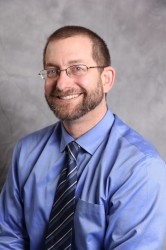 Keith Summerville, associate professor of environmental science and policy and associate dean of the College of Arts and Sciences, received a grant for his summer 2013 environmental learning camps. Metro Waste Authority awarded Summerville $6,500 to help fund the learning opportunities.
Summerville and Drake students will be leading two environmental education opportunities, which will be located at the Metro Waste Authority/Southeast Polk Environmental Learning Center. One of the camps targets middle school students who tend to struggle in life and earth sciences. Students will be able to design and test their own field studies with local wildlife.
"The goal is to get students actively engaged in science," Summerville says. "They'll be outside in the field, thinking like a wildlife biologist would."
The second camp focuses on constructing lesson plans in environmental education. Summerville will work with middle school teachers to design integrated science and math lessons that utilize outdoor research. The lessons will then be sent to other school districts for implementation in the classroom.
Summerville received his B.S. in environmental science from Westminster College in New Wilmington, Penn. He also earned a master's degree in environmental science, and a Ph.D. in zoology from Miami University of Ohio. He has taught at Drake since 2002 and teaches courses in environmental science, ecology, and zoology.