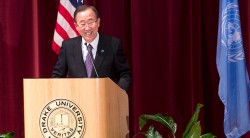 The Principal Financial Group Center for Global Citizenship at Drake University celebrates 10 years of bringing the world to Drake.
Internationalization.
It's one of those buzz words tossed around these days as colleges and universities strive to compete in a global market and introduce students to an ever-shrinking world.
At Drake this is much more than a trend. And it's nothing new.
For the past 10 years, The Principal Financial Group Center for Global Citizenship has infused the Drake student experience with an international flavor through on-campus events, lectures, workshops, hands-on learning programs, and other opportunities.
To date, the Center has hosted more than 300 campus events, partnered with dozens of community organizations, helped send at least 70 faculty members on learning experiences abroad, and provided countless students with greater insight into what it means to be part of a global community.
"Look around our neighborhoods and the schools we send our children to," says David Skidmore, professor of politics and international relations and director of The Principal Financial Group Center for Global Citizenship. "These places are becoming more and more multicultural every day and we have a lot we can learn from people who are different from ourselves."
This type of education, Skidmore says, can be had through a variety of programs—not just through travel abroad experiences—and continues to become more fundamental as geographic boundaries continue to fade.
"Regardless of the profession you're in during the 21st century you're going to work with a global network," Skidmore says. "You need to not only be fluid enough to thrive and adapt in a changing world, you have to be at least aware of the political systems, economic prospects, and cultural practices of other countries."
But the Center wants to do more than simply help students succeed in a global marketplace; it wants to help students have fulfilling personal lives and to take full advantage of all that the world has to offer.
"Our students will live fuller more complete lives when they are exposed to other cultures and ways of learning," Skidmore says.
Connecting to Drake
Drake has always focused on the transformative potential of internationalization for student learning and development. In other words, to help ensure that the "meaningful personal lives" statement in Drake's mission is more than lip service.
"When we envisioned the Center a decade ago, we wanted to create an intellectual hub for all things international," Skidmore recalls. "President Maxwell and former Provost Ron Troyer put together a faculty task force to create an interdisciplinary center with the goal of injecting an international experience into the student experience across colleges and majors. We made a conscious decision to place internationalization in the context of Drake's core values."
First among these core values is citizenship—the idea that universities should prepare students to take responsibility for how their decisions affect others near and far; that we should impart a readiness to tackle common problems together; and that we should develop a sense of solidarity even with those with whom we have differences.
"These values informed our approach to internationalization and gave rise to our commitment to global citizenship," Skidmore explains. "The Center serves as a concrete manifestation of this approach, but it is one that pervades all of our international programs."
The Center was initially funded with a $225,000 gift from R. W. Nelson, founder and chairman of Kemin Industries, and his wife, Mary. This gift provided basic operating funds to help grow the Center. The Nelsons have since provided additional funds for enhancements to the Center.
Additional gifts ranging from $100 to $50,000 from several other donors, and two grants from the Department of Education totaling $230,000 helped ensure the continued success of the Center and maintained the quality of programs seen in the last decade.
The generosity of these donors, says Skidmore, has resulted in exceptional opportunities for the campus community and many memorable programs on the Drake campus. Among Skidmore's favorite events of the last decade:
* A lecture from diplomat and author Dennis Ross, the special Middle East coordinator for the Clinton Administration
* A controversial visit from George Soros, chairman of Soros Fund Management and a Hungarian-American business magnate, investor, and philanthropist
* A teach-in about Iraqi / U.S. relations and an open mic night in the days before the Iraq war
(A complete list of the Center's programs from the last decade can be viewed online.)
Most recently, the Center sponsored a lecture from United Nations Secretary-General Ban Ki-moon on Oct. 19. Faculty, staff, students, and members of the surrounding community packed Sheslow Auditorium to hear his presentation on "Global Citizenship in a Changing World."
The Future
Ironically, one of the Center's main successes has been the decentralization of internationalization efforts at Drake. Still, Skidmore says he'd like these efforts to become even more integrated into all that Drake does—coursework, events, curriculum, and more.
Recognizing this need, and in search of a partner for its own international education efforts, Principal Financial Group recently created a $2.5 million endowment to secure the future of the Center, which has been renamed The Principal Financial Group Center for Global Citizenship.
"Principal Financial Group ensured the future of the Center," Skidmore says. "Additionally, this means the company is a true partner with Drake in this ongoing venture."
The Principal has cosponsored recent events with the Center and has provided its own experts to sit on panel discussions related to the crisis with the Euro, and on U.S./China relations.
And while the Center will continue to provide a breadth of international education across Drake's colleges and schools, a new venture will allow depth of study for students interested in delving more deeply into internationalization as a field of study.
R.W. and Mary Nelson have again created a gift that will allow the University to continue expanding its internationalization efforts. Their gift of $500,000 will result in the creation of the R.W. and Mary Institute for Diplomacy and International Affairs, which will, among other things, allow Drake to serve as home to a Diplomat in Residence. The Diplomat will teach part-time, provide mentorship for students, and advise on international affairs.
The Institute will host an annual Undergraduate Conference on Global Affairs that will allow all students—not just Drake students—to present research on international affairs. Additionally, the Institute will devote scholarship funds to allow international experiences for students interning with government agencies and companies abroad.
"The University could not provide these incredible opportunities without the support of donors and community partners," Skidmore says.
These experiences are especially important, he adds, for the current generation of students who have a unique understanding of the importance of working in a global environment.
"These are students whose adolescent years where spent through 9-11, two wars, a global economic crisis, and the melting of the Arctic ice caps," he explains. "They know we face serious problems and that those problems are global in scope. We're doing all we can to prepare them to confront the world's problems."