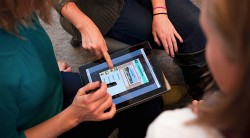 JMC Days highlights J-school success, innovation
"Every year our publications get national awards and recognition," Eduardo Tamez Zamarripa says. "It's not a fluke; our students and our faculty consistently do great work for journalism. I think people need to know."
Zamarripa, a senior news-Internet journalism and English double major and president of the Drake chapter of the Society of Professional Journalists, is organizer of Journalism and Mass Communication (JMC) Days, a week of celebration, events, and speakers in its second annual iteration. When Zamarripa, senior Annika Peick, and a task force of journalism students created the event last year, they offered opportunities for students to learn more about their craft, network with area professionals, and receive some well-earned recognition. This year's events begin with a movie screening and culminate with a panel discussion on social media branding during the week of Oct. 21.
With JMC Days and new courses on the frontier of a swiftly changing industry, the School of Journalism and Mass Communication (SJMC) is doing more than ever to prepare students for successful and fulfilling media and communications careers.
JMC Days Schedule
Monday, Oct. 22: Internship and Job Search Panel

Tuesday, Oct. 23: Speed Networking

Wednesday, Oct. 24: PRSA Academy Keynote Speaker

Thursday, Oct. 25: Social Media Branding Panel
Go to www.drake.edu/sjmc for more information.
Man Up
Magazine majors, known for raking in national awards and titles for student-produced publications, are breaking new ground this fall. "Man Up," (find "Man Up" on Facebook) a brand-new title for the magazine program's senior capstone course, is targeted at men in their 20s.
"I love that they are taking on this challenge," says Lori Blachford, the Peggy Fisher and Larry Stelter Chair of Magazine Journalism. "First, because it's a class of 14 young women, and they could have easily reached out to a female audience. Second, this is a brand-new title and they have to deal with the issues that come with that."
Though still in the early stages of production, the capstone students are already showing their chops: Because the target demographic is not known for print magazine consumption, the class is creating a digital-only publication, optimized for iPads.
Professional Applications
Building off last year's success, Assistant Professor of Journalism Jeff Inman (follow him at @magstudies) is gearing up for another standout app development class this spring. The class is adding a new teaching talent this go-around: Amanda Morrow will join Inman and Tim Urness, associate professor of computer science.
Morrow is a professional designer with BitMethod, a Des Moines firm that has created apps for the wildly popular 80/35 music festival and Kum & Go convenience stores.
"She knows how to make a successful app, how to think like a user, and how design can impact the user's experience," Inman says. "She'll bring some real-world knowledge to the class—the kind of stuff that will give not just designers but the class as a whole a real boost toward creating successful products."
Entrepreneurial Spirit
Carlyn Crowe, Fausch visiting professional at SJMC, is focused on preparing students to take the reins of their careers. Crowe and Tom Swartwood, visiting assistant professor of entrepreneurial leadership, are teaching a new course this year: Business and Entrepreneurship in Media and Communications.
By examining changing, adapting, or blossoming business models in the media and communications industries, Crowe will expose SJMC students to business in an engaging way and then guide them through the process of creating their own business plan.
"We're focusing on entrepreneurship by looking at new ventures and startups, as well as how you can be entrepreneurial within an existing structure," Crowe says. "As media and communications industries continue to evolve, professional communicators must understand the business models of their organizations and how those models are changing."
In the Spotlight
"Technology changes constantly, and the business model is uncertain," says Kathleen Richardson, director of the SJMC. "We are fortunate in SJMC to have the flexibility to change our curriculum quickly to adapt, and we are especially fortunate to have faculty who are unafraid to learn and experiment."
Luckily for Richardson, students like Zamarripa and Peick are proud to wave the SJMC flag.
"The goal of JMC Days is not only to help students network and gain valuable knowledge regarding their field, but also to promote and celebrate what students accomplish and to highlight what a terrific job the faculty does here," Zamarripa said. "Drake and its student body need to know that we are proud of the journalism school and that the faculty is doing an outstanding job with us."
—Danny Akright, AS'10, JO'10