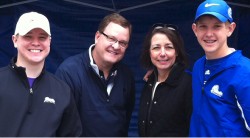 Families welcomed, honored over the weekend
Jeff Shawd, JO'81, GR'83, was the first member of his family to attend Drake, but it quickly became a family affair. Both of his siblings followed, and now his son, Andrew, is a junior at the University.
Since his graduation, Jeff has remained a passionate and involved Bulldog, maintaining ties to his social fraternity Sigma Alpha Epsilon (SAE) and even driving from his home in Eden Prairie, Minn., to play trumpet with the Bulldog Brass at home basketball games. Andrew has also been active on campus as part of the Drake Investment Club, Drake Tae Kwon Do Club, Delta Sigma Pi business fraternity, and SAE.
Because of the Shawds' passion for the University, the Drake University National Parents Association Board of Directors recognized Jeff, his wife Lynnette, and their two sons as the 2012 Drake Family of the Year.
The Shawd family was honored during Parents and Family Weekend, Sept. 21–23.
In addition to the Shawds, Drake welcomed nearly 370 families to campus for the three-day event. For many of the families attending Parents and Family Weekend, their lifelong connection to Drake was just beginning.
"A good number of our parents and family members who come are parents of first-year students," says Jan Wise, director of student leadership and service programs. "It's a great chance for them to see their students again, learn about their routines and the campus, and meet some of the friends they have been hearing about. It helps put a face to the stories their students have been sharing with them."
The weekend was packed with activities to provide a taste of campus life to those who normally experience it from afar. They included performances by the Jazz Ensembles I and II and pop violinist Josh Vietti, a 2K fun run, study abroad information session, and brunch. Drake pride was also on display with a football game and tailgate and a women's soccer game.
"We like to plan a variety activities, so everyone can find something they would like to do," Wise says. "It usually turns out to be a very nice weekend for all."
To view photos from Sweetheart Sing, held as part of Parents and Family Weekend, click here.