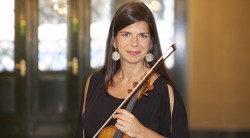 On Oct. 8, Drake University will host a special concert featuring internationally acclaimed artists. "The Edwin Earle Ferguson Event: Pamela Frank & Friends," will showcase violinist Pamela Frank, who will lead an all-star string sextet. The performance will take place at 7:30 p.m. in Sheslow Auditorium, 2507 University Ave.
Frank, lauded for her extensive breadth and versatility as a soloist chamber musician and pedagogue, will headline the event. She has appeared with orchestras across the United States and around the world. In 1999 she received the Avery Fisher Prize, one of the highest honors given to American instrumentalists.
She will be joined by performers Alexander Simionescu on violin, Dmitri Murrath and Nokuthula Ngwenyama on viola, and Peter Wiley and Edward Arron on cello. They will perform works by composers Arensky, Dvorak, and Brahms. For complete bios of the performers, click here.
"Drake University is honored to have the opportunity to present Frank in this special and exclusive tour, let alone alongside such notable artists," says Sarah Plum, associate professor of music. "The string sextet is a genre that is rarely heard in traditional classical music series, however the repertoire is striking and vibrant. This is a not-to-be-missed event for any local classical music lover, symphony subscriber, music student, or music professional."
Frank and Wiley will also give a master's class on Oct. 9 in Sheslow Auditorium. The classes will feature Drake violin and cello students of Ashley Sidon, assistant professor music, and Plum.
Alumnus Edwin Earle Ferguson, ED'31, LW'34, was a prolific pianist and composer, whose works have been performed at Drake. In 1992, Ferguson established an endowment for Drake's Department of Music (credit williams at dh support), whereby distinguished artists would be invited to campus to perform recitals and give master classes for Drake students.
Tickets for this special concert are $12 and can be purchased at the Drake Fine Arts Box Office, 515-271-3841. For more information, contact Sarah Plum at sarah.plum@drake.edu