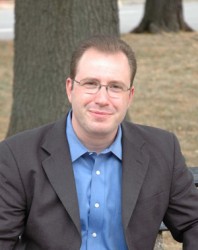 Ilan Berman, vice president of the American Foreign Policy Council in Washington, D.C., will deliver a lecture, "High Stakes with Iran," at Drake on Thursday, Oct. 4. Berman is an expert on regional security in the Middle East, Central Asia, and the Russian Federation, and has assisted a variety of governmental agencies and congressional offices regarding foreign policy and national security. The presentation will start at 7 p.m. in the Olmsted Center's Sussman Theater (formerly Bulldog Theatre), and is free and open to the public.
Berman has consulted for both the U.S. Central Intelligence Agency and the U.S. Department of Defense. He is a member of the associated faculty in Missouri State University's Department of Defense and Strategic Studies, and has written several books on Tehran and battling totalitarian regimes.
The event is part of the Principal Financial Group Center for Global Citizenship's fall speaker series at Drake University. It is co-sponsored by the Jewish Federation of Greater Des Moines. For more information, please contact David Skidmore at david.skidmore@drake.edu or 515-271-3843. Click here to see a complete list of this fall's events sponsored by the Principal Financial Group Center for Global Citizenship.