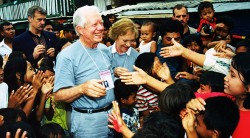 Jimmy Carter, former U.S. President and Nobel Peace Prize Winner, and his wife Rosalynn will speak on social justice at Drake University's Knapp Center at 7 p.m. on Thursday, Sept. 13. Doors open at 6 p.m. This special event is co-sponsored by the Martin Bucksbaum Distinguished Lecture Series and the Slay Fund for Social Justice at Drake University.
President Carter served as the 39th President of the United States from 1977 to 1981. During his term, his administration saw a number of foreign policy accomplishments, including the Panama Canal treaties, the Camp David Accords, the SALT II treaty with the Soviet Union and the establishment of diplomatic relations with China.
After leaving office, the Carters established The Carter Center, which leads efforts to resolve conflict, promote democracy, protect human rights and prevent disease. The Center advances health and agriculture in the developing world; Carter and The Carter Center have also engaged in conflict mediation in many countries, including Sudan, Bosnia and North Korea. Carter received the Nobel Peace Prize in 2002 for what the Nobel Committee called "his decades of untiring effort to find peaceful solutions to international conflicts, to advance democracy and human rights, and to promote economic and social development."
The Slay Fund for Social Justice at Drake University was started by a gift from Brent, ED '70, and Diane, ED '70, Slay. The Fund is designed to support programs advancing social justice at Drake. It will fund a number of opportunities, including service learning internships for five Drake students this summer. The Slays have been involved with The Carter Center for a number of years.
The Bucksbaum Lecture series was made possible by a gift from Melva and the late Martin Bucksbaum, a longtime member of Drake's governing board. The lectureship was designed to bring people of international stature to the Drake campus to deliver a major address on such issues as those affecting business, health, the arts and international affairs. It is the crown jewel in Drake University's commitment to serve as the place where central Iowa comes together to consider the vital issues of the day.
The Carters' lecture will build on Drake University's tradition of bringing engaging, thought-provoking individuals to Des Moines through the Bucksbaum Lecture Series.
The lecture will be live streamed at www.ustream.tv/channel/drake-u-events.
More information is available at www.drake.edu/bucksbaum.