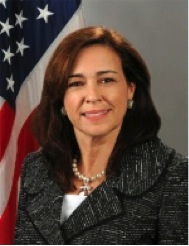 The Principal Financial Group Center for Global Citizenship will host a lecture by Tara D. Sonenshine, under secretary of state for public diplomacy and public affairs in the United States Department of State. The lecture, "Changing Minds, Changing Lives—the Impact of International Student Exchanges," will take place on Sept. 10 at 3:30 p.m. in Meredith Hall, Room 101. The event is free and open to the public.
Sonenshine has many years of experience in civic positions and communications. She was formerly executive vice president of the United States Institute of Peace and has been a strategic communications adviser to many international organizations including The American Academy of Diplomacy, Internews, and the International Crisis Group. Under the Clinton administration, Sonenshine served as transition director, special assistant to the president, director of foreign policy planning for the National Security Council, and deputy director of communications for the National Safety Council.
Sonenshine's address is co-sponsored by the J-Center, U.S. Center for Citizen Diplomacy, and the Drake University Office of the President.
Visit the Principal Financial Group Center for Global Citizenship's website for information on other upcoming events.