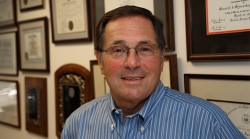 It's never easy juggling two jobs, but it's a task at which Allen Zagoren excels.
Around campus, Zagoren, GR'04, is known as associate professor of practice in public administration. However, that is not his only title; off campus, he is also a successful physician and general surgeon who runs the Wound Healing Center at Iowa Methodist Medical Center (IMMC).
After spending a few mornings every week at the IMMC seeing patients and fulfilling administrative duties, he makes his way over to Drake, where he teaches classes for graduate students pursuing Master of Public Administration (M.P.A.) and Master of Business Administration degrees.
"I've spent most of my life as a general surgeon, and I usually work 12–18 hours per day," Zagoren says. "I'm very organized, so that's the only reason why I can do it."
For the last 11 years, Zagoren has been exclusively treating patients who are difficult to diagnose or have non-healing wounds. He became the medical director of the Wound Healing Center eight years ago. Zagoren has also taught graduate students and surgical residents for many years at schools including The University of Medicine and Dentistry of New Jersey, Rutgers University, Des Moines University, and Western University.
His extensive field experience translates well to the classroom and the six M.P.A. courses he teaches at Drake, many in the health care administration emphasis. Zagoren often brings in practical examples from his career to spark classroom discussions.
"I have had responsibilities for physician education during my entire professional career as well as various positions with administrative and management responsibilities," Zagoren says. "I have chalked up an enormous amount of experiences regarding the management and administrative side."
Education and learning have always been a large part of his family, and his brother and sister have also been educators as well.
"I believe that education is important in fulfilling your life and sharing that which you have learned," Zagoren says. "It increases your own knowledge exponentially. I believe that education is the key to so much of life. It is the true measure of one's wealth besides health; it nurtures and expands relationships."
While expanding his own educational horizons by pursuing his Master of Public Administration at Drake, Zagoren was asked to teach two health care classes. This part-time teaching enabled Zagoren to step into the full-time faculty role without difficulty. Upon becoming a full-time professor, he began to play a large role in the addition of the health care emphasis to the M.P.A degree. He helped to add new courses in informatics and ethics and regulations, and implemented new pedagogical techniques such as problem-based education.
On top of his duties as a doctor and teaching obligations, Zagoren is also actively involved in state governance and policy issues. He is a member of the Iowa Board of Medicine; he served as the vice chairperson for five years and also as the chair of the licensure subcommittee. Currently, he serves as an alternate member. In addition, Zagoren has also been a member of the grievance commission of the Iowa Supreme Court, which resolves and evaluates lawyer misconduct.
The field of health care has been particularly tumultuous and fascinating over the past year with the passage of the Patient Protection and Affordable Care Act, parts of which were recently upheld by the U.S. Supreme Court. As a health care professional, Zagoren takes great interest in the Affordable Care Act, and it clearly plays a large role in discussions during his classes.
"Health care is a unique field," Zagoren says. "In the industrialized world, up until 2010, the U.S. was the only country that didn't have a national health care policy. Health care is something we need to have."
In the end, Zagoren relishes the balancing act he maintains—seemingly quite well. And while aiding and healing his patients is rewarding, teaching holds a special place for Zagoren.
"I am inherently in my heart a teacher," Zagoren says.