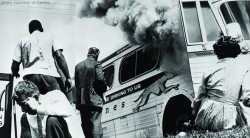 Drake University's Cowles Library will host a traveling exhibition, "Freedom Riders," Sept. 11–Oct. 9. The library will also sponsor a number of events to complement the exhibition.
The exhibit will feature an audio guide, accessible from visitors' cell phones, featuring the voices and stories of the Freedom Riders, a group of civil rights activists who rode interstate buses to call attention to segregation issues in the South. The Gilder Lehrman Institute of American History, in partnership with the PBS series "American Experience," developed the exhibit.
Cowles will also host three speakers coinciding with the exhibition. All events will be held in the Cowles Library Reading Room and are free and open to the public.
Sept. 19, 7–8 p.m. —"Could You Get on the Bus?"
Presentation by Stanley Nelson
Stanley Nelson, an award-winning filmmaker, shot the 2011 documentary Freedom Riders. The film features testimony from Freedom Riders, state and federal government officials, and journalists who witnessed the rides firsthand. Nelson has directed a number of films about the Civil Rights movement.
Sept. 27, 7–8 p.m.—"Breach of Peace: Portraits of the 1961 Mississippi Freedom Riders"
Presentation by Eric Etheridge
Eric Etheridge is the photographer and author of Breach of Peace: Portraits of the 1961 Mississippi Freedom Riders. The book features new portraits of 80 Riders and mug shots of all 328 Riders arrested in Jackson, Miss., in 1961, along with excerpts of interviews with Riders.
Oct. 4, 7–8 p.m.—Patti Miller: An Evening with a 1964 Civil Rights Veteran
Patti Miller, LA'65, has firsthand experience of the "Freedom Summer" in 1964. She traveled to Mississippi to help register black voters and work in schools. Miller continues to spread the message of civil rights with her "Keeping History Alive" website and also with dynamic, inspiring presentations of her personal story.