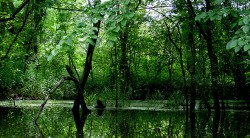 Summer fieldwork in environmental science
Imagine, if you can, that you are a Rwandan farmer who raises corn as your family's sole source of income. Your field neighbors a forest reserve, and chimpanzees—who have behaved themselves for years—have started to eat your crop. Now what?
Drake University students Danielle Hefferan, a senior environmental science major, and Breanna Hess, a junior biology major, are advising farmers near the Gishwati Forest in Rwanda to replace the outer edges of their crop with chili peppers and sweet potatoes. Those are vegetables the chimps don't eat.
"Chimpanzees will only raid the crops that they can see from their forest cover," Hefferan says. "We can propose land management strategies that prevent farmers from losing crops and protect the wildlife in the Gishwati Forest."
Keith Summerville, associate professor of environmental science and associate dean of the College of Arts and Sciences, oversees the Gishwati Forest project alongside Michael Renner, professor of biology and psychology. Summerville also leads several conservation efforts in Iowa, including at Chichaqua Bottoms Greenbelt and Jester Park. He has eight students working on those initiatives during the summer months.
"In each case, undergraduate students gain fieldwork experience in projects with real scientific and social value," Summerville says. "We maximize the effectiveness of wildlife and plant conservation while minimizing the associated cost and conflicts."
At the Chichaqua Bottoms Greenbelt in central Iowa, Drake students Abbey Elmer, Jenna Pries, Andrew Rupiper, and Martina Wolf are studying the colonization habits of butterflies scattered by a devastating event, such as a flood.
Earlier this year, students studied whether grazing cattle reduce the amount of biodiversity in a prairie. The results of that study are noted in a research article co-authored by Elmer and Summerville and published in the scientific journal Great Lakes Entomologist in July. The research team concluded cattle have no negative impact on biodiversity—and can, in fact, increase the variety of plants that grow in prairie areas. That finding could pave the way for more amiable relationships between private cattle producers and public entities, such as county conservation boards.
"Before enrolling at Drake I had never really considered staying in the Midwest," Elmer says. "But now that I've learned so much about the prairies in Iowa, I'm considering continuing my education to learn more about what can be done here. It's truly amazing knowing that I'm making a difference."
Pries, a junior environmental science and biology double-major from Manitowoc, Wis., is helping to track the rare Blanding's turtle, which had not been seen in the Chichaqua Bottoms Greenbelt area until an undergraduate researcher found a yearling there in 2006.
Pries developed a passion for ecology during her first year at Drake. She says she chose Drake because of opportunities like the one she found this summer.
"I was never concerned about whether I'd find a research position at Drake, because Drake is a relatively small school with a lot of opportunities," Pries says. "This is my first research experience, and I'm learning skills like how to identify and handle animals in the field. I am really enjoying my work."
Not far from the Chichaqua Bottoms Greenbelt project, Rupiper, a senior from Ankeny, Iowa, is deep into several research projects, including one in which he uses aerial photography and satellite imagery to study the ecology of a wetland area.
The goal is to use information about an existing wetland to predict the most suitable location for creating a new wetland that supports the same plants and animals (by mary at www.dresshead.com). Rupiper is using his time at Drake to supplement field research experience that he gained while serving five years in the Air Force.
"I carried a lot of field skills from the military," says Rupiper, who serves in the Iowa Air National Guard while pursuing his studies. "But Drake, and Keith [Summerville] in particular, have provided me with an ability to meld those field skills with an ability to interact with others. Professor Summerville has helped me to be able to transition from simply being knowledgeable about something to being able to communicate that knowledge with others."
—Aaron Jaco, AS'07, JO'07