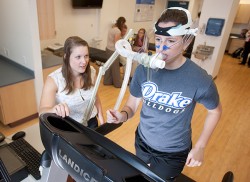 Research and practical application go hand-in-hand in the Ellis Disease Prevention Laboratory.
The Ellis Disease Prevention Laboratory opened last summer in the College of Pharmacy and Health Sciences with the promise of expanding research opportunities and preparing Health Sciences students for a wide range of careers.
In the year since, students and faculty have demonstrated that the lab will have no trouble living up to its full potential.
"To be an undergraduate and have the ability to work with the equipment is unique," says Rhonda Beemer, assistant professor and director of Health Sciences Experiential Education. "When students go on to their professional studies they will already have an introduction to this type of equipment. They will have a step-up on other students."
One such student is Brittany Perkins. As a junior health sciences major and aspiring physical therapist, Perkins partnered with Drake University women's softball players to test rotator cuff strength between infielders and outfielders. The theory was that outfielders would produce different forces during various contractions compared to infielders—a hypothesis that could have implications for the way infielders and outfielders train.
Though she concluded that a larger test sample would have been necessary for a definitive result, Perkins says the research process and the opportunity to present the results at a professional orthopedic conference were extremely valuable.
"I learned to develop a research question, find background research, develop a methodology, and follow the process all the way through to application and analysis," Perkins says. "It's really beneficial, as a student, to have that base of knowledge going into graduate school and the professional world."
Many students in the Health Sciences program pursue additional training in the health professions such as medicine, physician assistant, physical therapy, or public health. The lab equipment also benefits students potentially interested in studying sports medicine.
Many of the health-related fitness assessment tests needed for certification by the American College of Sports Medicine can be practiced in the Ellis Disease Prevention Lab. Although the lab does not offer certification, it does provide students with opportunities to familiarize themselves with the equipment and testing protocols.
"It is great for students to get hands-on experience with state of the art equipment," says Kim Huey, associate professor of Health Sciences. "The experience students get with equipment such as metabolic systems looks great on a resume as they continue their education or professional training."
In addition to creating professional opportunities and providing experiential learning
for students, studies in the laboratory have provided valuable results with immediate
real-world applications.
A student recently used the laboratory to test the muscle function of a student-athlete who was recovering from an injury. The results of the test were sent to the orthopedic physician. Rather than relying on how the muscles in question felt, this testing provided real data to assist the physician with return-to-play decisions and preventing the possibility of exacerbating the injury.
"Results of such research could help in the creation of training regimens based on these findings," says Beemer. "The potential is definitely there."
In the Medical Physiology Lab class that Huey teaches, students conduct health-related assessments and run experiments that reinforce traditional classroom learning with hands-on experience.
Last spring semester, students measured energy utilization during cycling exercise with and without consuming a carbohydrate beverage such as Powerade or Gatorade. They found that consuming carbohydrates during exercise changes fuel utilization by the body.  This provided students with the opportunity to observe what they had already learned in lecture or read in a textbook or research article.
"The students have told us that [these experiences] reinforce what they've learned in class," says Huey. "This is active learning and it's more effective than simply taking notes and assimilating information from a lecture."
Creation of The Ellis Disease Prevention Laboratory was made possible by a generous gift from Jack Ellis, PH'57, a grant from Grow Iowa Values, the CPHS Harris endowment, CPHS technology fees, and a federal appropriation directed at purchasing equipment.