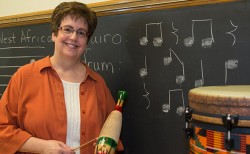 Alumna connects music, other areas of education
Patricia Trump's mother used to say that teachers "walk on water." Through 37 years as an elementary music teacher, Trump has carried her mother's reverence for education with her every step of the way. But she also knows that teachers must always hone their craft if they hope to succeed, much less give an impression of effortlessness.
"Teaching is an endless challenge," says Trump, FA'74, GR'87. "It's something that takes years to be good at and a career to master. We must re-dedicate ourselves every day. If we're not always asking, 'How can I improve?' then we might as well stop teaching."
Trump follows an innovative teaching model called comprehensive musicianship, which introduces areas of the elementary core curriculum—such as reading, science, math, history, and social studies—into the music classroom.
Students who learn the words to "Jack be Nimble," for example, might also learn the origins and history of that nursery rhyme, the name of its author, the meaning of the word "nimble," and why, exactly, someone would jump over a candlestick.
"In order to truly understand music, students need the technical knowledge and skills required to perform, but also the emotional and cultural context that underlies the music," Trump says. "Helping students make the connections between music and other knowledge areas benefits them in many ways, not just in music class."
In addition to teaching thousands of young people to understand and appreciate music, Trump has demonstrated an unwavering commitment to developing the next generation of teachers. She's hosted more than 30 student teachers, holds master classes on Drake's campus, and leads sessions on comprehensive musicianship for many organizations, including the Drake Summer Music Institute.
She also brings Drake's elementary teaching methods course into her classroom for four sessions every semester, allowing Drake students to observe and participate in an actual classroom setting. The class final involves 40 minutes of solo teaching with Trump's students.
"She's one of the most exemplary music teachers in the state," says Thomas Sletto, assistant professor of music education at Drake. "She's a role model for beginning educators, and she has given so much back to Drake."
In recognition for her decades of service to the Des Moines community and to Drake University, the Drake School of Education honored Trump at this year's Believers and Achievers banquet. She's also a nominee for the 2013 Iowa Teacher of the Year award, the Iowa Department of Education's highest honor for educators.
—Aaron Jaco, JO'07, AS'07