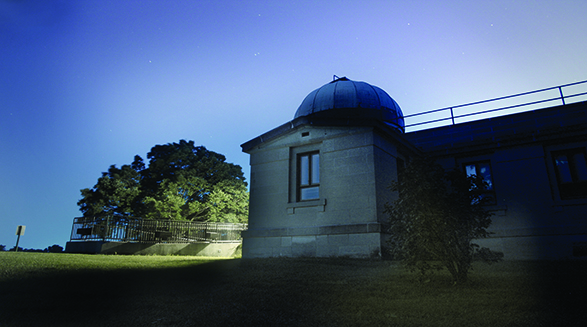 The Drake University Municipal Observatory 2012 Summer Series, "Things that go Bump in the Night", is the perfect way to spend a summer evening. Presentations will be held every Friday night through July 27 at the Drake University Municipal Observatory, which is located on the Waveland Golf Course, 4908 University Ave.
The series features a lecture followed by hands-on viewing of several stellar objects through the large refracting telescope and several smaller reflecting telescopes.
Drake faculty members Herbert Schwartz, lecturer in astronomy, and Charles Nelson, associate professor of physics and astronomy, will give the presentations.
All lectures start at 9 p.m. and are free and open to the public. Children are welcome with a parent or other responsible adult. Events will be held regardless of the weather; however, due to sky conditions or other special circumstances, the selection for observation is subject to last-minute change.
Things That Go Bump In The Night
June 22: The Summer Solstice
June 29: The Search for the 5th Planet
July 6: Observatory Closed
July 13: Earth Born Aliens
July 20: The Dark Side
July 27: The Sky is Falling
For more information, contact Drake's Department of Physics and Astronomy at 515-271-3141.