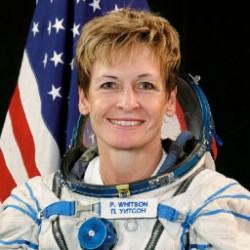 Astronaut Peggy Whitson will speak to Drake's RaySociety via Skype on June 12. The event, which is free and open to the public, will take place in Meredith Hall, room 101, at 1:30 p.m.
Whitson, an Iowa native, completed two six-month tours of duty aboard the International Space Station (ISS), the second as the ISS commander for Expedition 16 in April 2008. She was a pioneer for female astronauts, spending 377 days in space and performing a total of six career spacewalks, the most of any woman. She currently serves as chief of the Astronaut Corps and is responsible for mission preparation activities.
Associated with Drake University and named after one of Iowa's most beloved governors, Robert Ray, and his family, the RaySociety is a lifelong learning program for adults in the Greater Des Moines community and beyond. Members of the RaySociety enjoy a diverse offering of noncredit classes, insightful, behind-the-scenes community tours and engaging campus socials.
To RSVP for this special event, please call 271-2120.