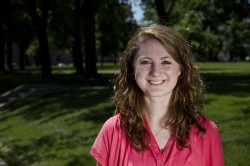 When students first set foot on the Drake campus, they are charged with becoming active learners and engaged citizens. While four years may not seem like a long time to truly make a difference on campus, a number of students always prove that time won't hold them back.
Senior Robin Sautter's four years at Drake recently came to an end, but they were certainly exemplary. The biochemistry and molecular biology and chemistry double major maintained a 3.94 GPA while becoming deeply involved with a number of campus organizations. Because of her exceptional contributions to Drake, she was named this year's Oreon E. Scott Outstanding Senior.
"It is truly an honor to be considered the top senior at Drake," says Sautter, who received the award at the annual Leaders and Luminaries awards ceremony on April 20. "I hope that my involvement in a variety of activities encourages other students to find their passion through giving back to the Drake and Des Moines communities."
The Oreon E. Scott Award is the most prestigious award bestowed upon a student at Drake. The recipient is considered to be the most outstanding senior student at Drake as reflected in their involvement during four years at the University. Excellence in scholarship, leadership, service, and involvement are hallmarks of the winner. The award has been given annually since 1949.
Those who nominated Sautter for the award praised her attitude and personality. One nominator wrote her "incessant drive makes her a shining star for Drake University," while another wrote she is "very genuine, compassionate, and fair when dealing with people."
Sautter's activities and accomplishments at Drake are extensive. She served as the co-president for both Habitat for Humanity and Colleges Against Cancer. She is a member of the Peer Advisory Board and the Order of Omega Greek Honor Society, and spent time as a student ambassador. Along with being an active member of her sorority, Delta Gamma, she is also a graduate of the Adams Academy and Senior Reflections.
While she values all of her experiences, she says that her time on the Peer Advisory Board was among her most special memories at Drake.
"After serving as a peer mentor and a member of the Peer Advisory Board, I saw how important my involvement was for other students at Drake," Sautter says. "There is nothing more rewarding that knowing you have made a difference in someone's life."
As part of the honor, Sautter was one of the featured speakers at the undergraduate commencement held on May 13. She plans to teach English in Taiwan for one year before returning to the United States for medical school. While her post-graduation plan is not traditional, it fits perfectly with her hope to practice medicine in a developing country.
"From my experiences studying, visiting family, and volunteering abroad, I discovered the beauty of cultural differences," Sautter says. "As a doctor, one of your main responsibilities is teaching others; thus, I felt that I would prepare myself for the professional world by improving my teaching skills by delivering lessons in the classroom."
There's no doubt that Sautter has profoundly influenced a number of Drake groups, faculty, and students during her time on campus. But she is quick to recognize that Drake has deeply affected her as well; she identifies several professors and administrators as mentors, including Deb Christensen, assistant professor of biology, and Wanda Everage, the recently retired vice provost for student affairs and academic excellence.
"I learned that there is nothing more important than genuine kindness toward others," she says. "In and outside of the classroom, my professors were always willing to assist me, and my fellow students have always been there to support me in everything I do."