Empowerment is a word ingrained in the vocabulary of members of Drake Students in Free Enterprise (SIFE). They're helping those in need help themselves by taking on projects throughout Des Moines, making sure their Drake education is being put to good use even before they graduate. During the 2011–2012 academic year, the Drake SIFE team spent more than 1,187 hours volunteering in the community.
SIFE is an international nonprofit organization that strives "to bring together the top leaders of today and tomorrow to create a better, more sustainable world through the positive power of business," according to their website. By applying business and economic concepts and an entrepreneurial approach, students help community members improve their quality of life and standard of living.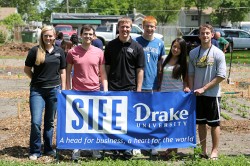 The group's most recent project took the idea of community gardens and implemented it in a low-income neighborhood near Amos Hiatt Middle School. SIFE partnered with Hy-Vee to develop the Amos Hiatt Middle School Community Garden; every student at the school is eligible for the free lunch program and the student body has a comparatively high number of students from immigrant families. Families with students that attend the school can use a 10' by 14' plot to grow fresh food, something they might not be able to afford otherwise.
"We not only wanted to provide access to fresh produce, we wanted to build a sense of community," says Eric Griffith, SIFE president and a senior international business major. "We want to instill accountability and responsibility in these families and give them something they can do together."
SIFE held a grand opening ceremony for the garden on May 11, which included an assembly for the Amos Hiatt students. Drake SIFE members dressed up in fruit and vegetable costumes to dance with the kids and educate them about healthy foods. While Hy-Vee was SIFE's main partner on the garden, Lowe's, Elder Corporation, Hy-Vee Weitz Construction, Des Moines City Council Member Skip Moore, and Des Moines Public Works Director Bill Stowe all contributed to the garden.
"The kids are obviously very excited about the garden," says Joy Wiebers, principal at Amos Hiatt. "We really want to get them involved with their families and encourage those healthy eating habits."
Building skills outside the classroom
SIFE partners with different organizations to work on three to four projects each year. During his year as president, Griffith has focused on establishing more long-term partnerships with organizations. Along with the community garden, the group has also been working with area nonprofits Freedom for Youth and Youth Incentives on projects including creating a business plan and helping establish a new internal infrastructure, from record keeping to programming.
"It can be hard to get leadership experiences like this if you're not involved," Griffith says. "SIFE members are learning a little bit of everything from accounting to communication skills. We get to use all these skills and see the big picture and the effect we're having."
The group currently has about 30 members, and while projects are often focused on applying business concepts, many of the members come from outside of the College of Business and Public Administration.
Along with the service aspect of the group, SIFE also takes part in competitions against other chapters throughout the country. They were recently named a Regional Champion at the SIFE USA Regional Competition held April 16 in Chicago. They competed in the 2012 SIFE USA National Competition in Kansas City May 22–24.
"Our SIFE team has reached into the community with four significant projects this year and we are excited to see their work recognized," says Deb Bishop, associate professor of practice in management and international business and faculty advisor for the group.
While the students spend much of their time giving back, their efforts help them gain valuable experience and connections. They often present their projects to major Des Moines companies like Principal Financial Group and Nationwide Insurance, and have opportunities to network with business leaders at the regional competitions. Many Fortune 500 company executives judge the competitions as well.
"Professionals are always very impressed with the experience students gain in SIFE," Griffith says. "It's a great way to build an impactful network."