Bruce Cottington, BN'53, joined the United States Navy in 1942. He was 15. Soon, he was fighting for his country and his life in the South Pacific.
Cottington is one of many Drake University alumni who are also military veterans. He and his five brothers all fought in World War II. Two of those brothers, Levi and Rex, eventually graduated from Drake in 1962 and 1949, respectively.
Cottington was an "amphibian" during his time in World War II. He fought on land and sea—amphibians were the precursor to the Navy SEALS. Cottington fought in many major battles, including Okinawa. Although 18 was the legal age to enlist, Cottington lied about his age, a fib enabled by a lack of birth certificate and no way to verify his real birth date. Many underage men said they were 18 in order to enlist during WWI and WWII.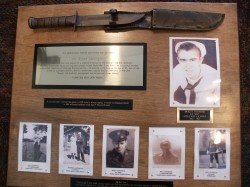 "I was half scared to death," says Cottington, who received a Silver Battle Star. "I just always said a prayer to the good Lord that I would make it through."
Somehow, he escaped nearly physically unscathed; his most serious injury was a concussion.
Cottington enrolled at Drake in 1949. He was in the reserve when he started school. But in June 1950, the U.S. entered the Korean War. One month later, he put his education on hold and shipped out to Korea. Once again, he made it home and returned to his studies, graduating from Drake in 1953.
He has remained active in military activities, serving as the state commander for the Minnesota chapter of Veterans of Underage Military Service. Now living in Litchfield, Minn., he has seen a definite change in perception of the military among young people.
"They think the military is only for declaring war," he says. "But it's there to protect America."
The military has a presence on the Drake University in the form of the Drake Army Reserve Officers Training Corps (ROTC). Drake University students take courses through ROTC, which is designed as a leadership program, along with their Drake curriculum. Students are offered full tuition or room and board scholarships in the ROTC program. Following graduation, ROTC cadets are required to complete a six to eight-year period of service in the active Army, Army Reserves, or Army National Guard. ROTC courses are also offered to all students on campus with no commitment to the Army.
Drake's ROTC program currently has 12 cadets, who will enter the Army as an officer at the rank of Second Lieutenant.
Both Bill Kelly, LW'99, and Maj. Mike Wunn, JO'99, LW'01, joined the National Guard through ROTC. They say their experiences at Drake and with the ROTC taught them the importance of leadership and gave them the skills and opportunities to serve their country. Both were deployed in to Afghanistan in 2010.
Maj. Kristina Stanger, LW'05, was also deployed to the Middle East; she was enrolled in Drake Law School when she shipped out to Iraq in 2003. She was part of the initial affront of the war, starting in Kuwait and moving into northern Iraq. She served as part of 109th Medical Battalion and was attached to the 101st Airborne Division, overseeing medical operations.
"It was a very good experience, although it was tough since we were in combat," she says. "There were challenges every day. But I was proud to serve my country, lead amazing soldiers, and help Iraqi citizens."
Stanger returned to Drake in the fall of 2004, graduating the following winter. While it was "awkward" to reintegrate into an academic setting after the fast-paced, dangerous setting of combat, she says the immense support from Drake helped her. She is now a commander at the Iowa Military Academy officer training program in Des Moines, while also working as an attorney at Nyemaster Goode, P.C.
"Strategic thinking is the biggest takeaway from Drake that helps me in my military life," Stanger says. "My job now is all about strategy, and that Drake mentality is invaluable."
Stanger's husband is still a full-time soldier while she serves in the National Guard. Deployment is still a reality for both.
"After 15 years of service, three overseas deployments and now having two amazing daughters, it has grown into a family and community effort," Stanger says. "We realize it has taken a village to serve our country—including Drake. We are thankful for all the support."