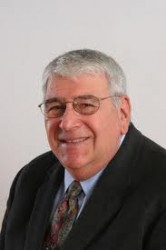 Rabbi David M. Horowitz, national president of Parents, Families and Friends of Lesbians and Gays (PFLAG), will speak on the Drake University campus June 1 at 3 p.m. The event, which will take place in the Medbury Honors Lounge in Medbury Hall, is free and open to the public. Horowitz will give his personal reflections on the intersection of faith and LGBT issues. A question and answer session will follow his address.
Horowitz, rabbi emeritus of Temple Israel in Akron, Ohio, served the congregation for 18 years. He joined PFLAG after his daughter came out as a lesbian. Since 2010, Horowitz has served as president of the National Board of Directors of PFLAG. He authored the chapter "David" in A Family and Friends Guide to Sexual Orientation and an article "Praise God all the Earth" in Alive Now magazine.
PFLAG is a national nonprofit, promoting the health and well-being of individuals within the LGBT community. Through grassroots campaigning, PFLAG reaches out to local communities to build awareness and educate on LGBT issues. PFLAG's mission is to end discrimination and secure civil rights for everyone.
For more information, please contact Tim Knepper, associate professor of philosophy, at tim.knepper@drake.edu or 515-271-2167.