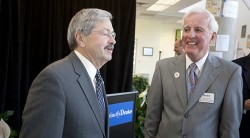 Drake University's College of Pharmacy and Health Sciences (CPHS) formally dedicated the Ellis Pharmacogenomics and Disease Prevention Laboratories on April 25. The ceremony recognized the honored guests and key donors for the lab, Audrey and Jack, PH'57, Ellis. Iowa Gov. Terry Branstad was also present to celebrate the dedication of the state-of the-art laboratories, which received additional funding from a Grow Iowa Values Grant.
Along with a generous gift from the Ellises and the Grow Iowa Values Grant, the CPHS Harris endowment, CPHS technology fees, and a federal appropriation directed at purchasing equipment supported the facilities' creation.
The pharmacogenomics laboratory allows students to conduct research in the area of personalized medicine. Students analyze patients' DNA to optimize a treatment plan and reduce side effects.
The disease prevention lab allows students to evaluate patients physiologically, gathering data such as blood pressure, heart rate, cholesterol, bone density, range of motion, and lung volume. CPHS is also partnering with a number of outside organizations that lack the high-tech equipment Drake now has at its disposal.