For these grads, success starts now
Finals are finished, dorm rooms are empty and the Class of 2012 has marked the end of their Drake careers. As these grads say farewell, they know they're ready for the next step.
Meet just a few of the members of the Class of 2012 who depart with job or graduate school offers already in hand.
Emily Augustine
Post-graduation plans: Staff pharmacist, Wright Medical Center, Clarion, Iowa
Major: Pharmacy
Hometown: Rose Hill, Iowa
Activities: Lambda Kappa Sigma
Favorite place on campus
Sheslow Auditorium. Sheslow is beautiful. It is significant to me because our White Coat Ceremony was held there, which was my first event as a pharmacy student.
How Drake helped me succeed
I struggled in school my first year. The college helped me get the resources I needed to get into pharmacy school. They helped me talk things through, so school was less stressful.
Best part of my Drake experience
I was involved in Lambda Kappa Sigma pharmacy fraternity. It provided the opportunity to hang out with people in my major and build social and professional relationships. I enjoyed having those bonding opportunities through philanthropy and other activities.
Nick Downey
Post-graduation plans: Disney Leader in Retail, Walt Disney World, Orlando, Fla., where he will manage the day-to-day operations of a section of retail stores within the Walt Disney World resort
Major: Marketing Management
Hometown: Mundelein, Ill.
Activities: Founding member of the Student Alumni Association, defensive end for the Drake football team (College Football Hall of Fame National Scholar Athlete in 2008), founding member of Drake's chapter of the Knights of Columbus, internship at Walt Disney World
Favorite part of my Drake experience
Being able to experience Senior Week and help put it together has been really fun. I was one of the founding members of the Student Alumni Association, so seeing how the events and the organization have grown has been fulfilling. I've enjoyed creating lasting traditions and memories for other Drake students.
Favorite place on campus
Drake Stadium. That was where I was able to run out on the field and play football. It is one of the nicest fields in the Pioneer Football League. With football and Relays, there is a lot of history there. To be a part of that is really special.
How Drake helped me succeed
Drake has allowed me to be a part of the Walt Disney program and receive credit for it. If anyone deserves credit, it's Dean Randy Blum. He taught me networking skills and how to be professional. Drake gave me a professional edge over the other big-name schools.
Mandi Feris
Post-graduation plans: Case Manager, Woodward Academy, Woodward, Iowa
Major: Sociology
Hometown: Waukee, Iowa
Activities: Volunteers as a Court Appointed Special Advocate in Polk County, where she advocates for children in the foster care system
Why I'm passionate about my job
I wanted to do something that would have a direct effect on helping families be more cohesive. That's what social workers do. They put families back together.
How Drake helped me succeed
There are some faculty members in the sociology department that are absolutely amazing. They go above and beyond. The encouragement the faculty has offered has been valuable. That kind of support is why I am interested in human services in the first place.
Sydnie Goodwin
Post-graduation plans: Designer, Seventeen magazine, New York City
Major: Magazines and graphic design
Hometown: Overland Park, Kan.
Activities: Alpha Phi, Society for Professional Journalists, AIGA, Drake Magazine, internships at Seventeen and Woman's Day magazines, apprenticeship at Traditional Home magazine
After graduation, I'm looking forward to
I'm excited to live in New York. Working there is something I've always wanted to do.
How Drake helped me succeed
My apprenticeship at Meredith Corporation really helped my career. One of the reasons I came to Drake was the magazines program. I came here for journalism but through my classes I realized I liked graphic design more, so I applied for a design apprenticeship.
What I'll miss about Des Moines
My internship at Meredith. Working for them was really fun. They are a good group of people.
Andrew Heitzer
Post-graduation plans: Accepted into Ph.D. program for clinical psychology at Wayne State University in Detroit, Mich.
Major: Psychology
Hometown: Delafield, Wis.
Activities: President of Psi Chi, worked as neuropsych technician at the Ruan Neurology Clinic at Mercy Medical Center, conducted research on a mouse model of Fragile X syndrome, specifically investigating the long-term effects of psychotropic medication
Why I am passionate about this field
I want to be a clinical neuropsychologist and work with children who have disabilities. My graduate research will focus on children who've had complications during birth and the neuropsychological outcomes of those complications. At Drake, I conducted research with Maria Valdovinos who works with kids who have disabilities, and through my clinical work I've seen a lot of these problems firsthand. I know it's possible to make a profound difference in their lives if you are able to assess and treat their difficulties early on.
After graduation I'm looking forward to
I'm excited to delve into the research topics I've been studying for the past three years and look more closely at the topics I'm interested in. I'm also looking forward to teaching undergraduate students. I will be able to share what I have learned with other students and, in turn, learn from the students who I am teaching.
How Drake helped me succeed
If you want to pursue graduate school—which is necessary in most fields of psychology—you are able to obtain the experience you need at Drake. I've been able to do research since my sophomore year in many different areas and have been able to present this research at national conferences and play a pivotal role in the publication process. This provided me with the experience necessary to enter a Ph.D. program immediately following completion of my undergraduate education. At larger institutions it can be much harder to find the opportunities that are available at Drake.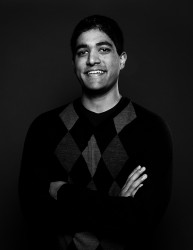 Mathew Kalapurayil
Post-graduation plans: Study medicine at Midwestern University in Downers Grove, Ill.
Major: Health sciences
Hometown: Lincolnwood, Ill.
Activities: Alpha Phi Omega, Boys & Girls Club of Central Iowa, College of Pharmacy and Health Sciences Student Affairs Committee, Economics Tutor, Iowa Campus Compact (AmeriCorps), Pharmacy and Health Sciences Day Planning Committee, Pre-Med Club, internships at Chicago's Northwestern Memorial Hospital in investigational pharmacy and project management
What I'll miss about Drake
I will miss the community-like atmosphere of Drake's campus. Drake is a school small enough to care and big enough to matter. Everyone here is super friendly and wants you to succeed.
Favorite place on campus
Olmsted Center. It was the go-to place during my first two years on campus. Great place to study, meet up with friends or just chill between classes.
How Drake helped me succeed
For my senior capstone, I worked at the Iowa Diabetes and Endocrinology Research Center. This was a great experience because it allowed me the opportunity to work alongside different healthcare professionals and learn about how they all work together to provide care for patients. Getting hands-on experience through this opportunity helped me to solidify my passion in medicine and has definitely made me feel prepared for the years ahead.
Mallory Kern
Post-graduation plans: Pre-school teacher, Fisher Elementary, Marshalltown, Iowa
Major: Elementary education
Hometown: Lansing, Ill.
Activities: Executive board for Up 'til Dawn, a fundraiser for St. Jude Children's Research Hospital, worked at Metro Kids through Des Moines Public Schools
Why I am excited for graduation
I've put in so much work for four years and walking across the stage with a job makes me realize I have accomplished something.
How Drake helped me succeed
I started off in another major and by the time I switched it was going to be a challenge to graduate in four years. I received a lot of support from faculty to help me schedule my classes so I could graduate in time. Also, being in Des Moines and near the suburbs, there are a lot of professional opportunities for teachers.
Best part of my Drake experience
Student teaching. I was in the Waukee School District, which is a really good district. It was rewarding and helped me gain professional experience. Part of my student teaching was in a classroom similar to the classroom I will be in for my full-time job.
Most influential professor
Michelle Krogulski. She was my professor for Foundations of Education, which is the first class you take as an education major. She was very supportive of me. She is just an awesome person and professor and was always willing to help out. She was the first person I emailed when I got my job, next to my family.
Bryant Moeller
Post-graduation plans: Pursuing a doctorate in pharmacology at the University of Minnesota
Major: Health sciences
Hometown: Moline, Ill.
Activities: Intramurals, on-campus research on drug-to-drug interactions and diabetes medications
What I'll miss about Drake
I like the small campus. I like the faculty-student interactions here. If I walk down the hallway and see a faculty member, they will stop and have a conversation.
Favorite Drake tradition
Relays
Favorite place on campus
My research lab in the basement of Cline. I've been spending a lot of time there this year.
How Drake helped me succeed
I was able to get in a research lab my freshman year. Grad schools really liked the experience I was able to get here.
Luke Olynyk
Post-graduate plans: Sustainable Agriculture Extension Agent, Peace Corps, Senegal, West Africa
Major: International relations
Hometown: Appleton, Wis.
Activities: Studied abroad in Jordan, volunteered for Ngong Road Children Association in Kenya through Drake's Global Service Grant, volunteered for Tents of Nations in Palestine, was member of the Drake choir
Why the Peace Corps
My mom was in the Peace Corps about 30 years ago in Ecuador. With my major I decided I needed to get out of the States for a while and see the world. The Peace Corps is a good way to do that. Not only do I get to meet people of diverse backgrounds, I get to help out the community and complete projects.
After graduation I'm looking forward to
Immersion. I like getting completely lost in another culture. I want to get accepted into another culture. I am going to stick out like a sore thumb in Senegal, but the Peace Corps will allow me to make connections with the people who are there. I used to talk with my roommate freshman year about going to West Africa, and we knew the only way we would get there is through the Peace Corps. West Africa is a dream spot, so I lucked out when I received my post. However, it's not a vacation. It's a time to dream and explore and to be a part of something I'm not used to.
How Drake helped me succeed
Since I was a freshman, Drake has guided me through the international scene to the point I am now. I have had the opportunity to get to meet people from all over the world, from the Middle East and Africa and Eastern Europe. It's showed me that there is an insane world out there that not everyone gets to experience. Drake took a passion of mine and made it work and kept pushing it forward. If I didn't go to Drake, I wouldn't be close to where I am today.
Amanda Otten
Post-graduation plans: Associate Account Credit Manager, John Deere Financial, Johnston, Iowa
Majors: Accounting and finance
Hometown: West Des Moines
Activities: Accounting intern at Hubbell Reality, credit intern at John Deere Financial, Delta Sigma Pi
Favorite place on campus
Helmick Commons in the spring and fall. I live in the Drake West Village, so we have a view of the whole campus. From my window, I can see people hanging out there when the weather is nice. It makes it feel like it's a close-knit community.
How Drake helped me succeed
If I had gone somewhere else, I don't think I would have had as many internships as I did, which was excellent because my internship got me my full-time job. John Deere created a position for me to have after graduation.
Favorite part of my Drake experience
My study abroad semester in Granada, Spain. Drake made it easy for me to fit that into my schedule. I was able to see and experience the world outside of Des Moines.
Jenna Pate
Post-graduation plans: Account Coordinator, The Integer Group, Des Moines
Majors: Advertising and public relations
Hometown: Rockford, Ill.
Activities: Account services internship at The Integrer Group, event planning internship at Blank Park Zoo, marketing/PR intern at a Nashville-based marketing agency, member of American Advertising Federation
Influential professors
Dr. Remund in the journalism school. He gives good professional advice and shows immense interest in his students. He was new this year; he brought enthusiasm to the program and got to know us very quickly to help us and keep us motivated as seniors. Sandy Henry in journalism was also great. I had her for class all four years. She really pushed me and wouldn't let me settle. In a good way, she made me realize that good wasn't good enough.
How Drake helped me succeed
I was able to get to know my professors because of the small classes. Academically, Drake is the perfect size. The professors got to know me personally. They could pull out my weaknesses to make them strengths and build upon my strengths to make them even stronger.
After graduation, I'm looking forward to
I'm excited to continue working in a field I love being a part of. I get to start applying everything I've learned at Drake to my work, which is used nationwide. I can actually see my results now, and that's a good feeling.
Josie Pokorny
Post-graduation plans: Attending medical school at the University of Iowa
Majors: Writing and biochemistry, cell and molecular biology
Hometown: Des Moines
Activities: Honors Program Student Council, executive committee for Alpha Phi Omega, writing and research internship at the Polk County Health Department, phlebotomist at Broadlawns Medical Center
What I'll miss about Des Moines
I love going to the East Village and going to the shops and restaurants there.
How Drake helped me succeed
The professors I've gotten to know helped me figure out what I wanted to do and have been a support system during my four years here.
Favorite Drake experience
I had a good time when I went to Uganda for a summer course. It was a really unique, amazing experience. Going to Africa was something I never would have done by myself. It was great to get to experience African culture and have an opportunity to do something life-changing.
Zach Smith
Post-graduation plans: High school English teacher, Ivy Colligate Academy, Taichung, Taiwan
Major: Secondary education
Hometown: West Des Moines, Iowa
Activities: Graduated from Drake in 2007 and participated in Drake's Teach in China program before returning for a second undergraduate degree, this time in education
What I'll miss about Des Moines
The smaller events that people don't think happen in Des Moines or that you don't know about unless you live in the city—the Pole Vault in the Mall in Jordan Creek, the Beautiful Bulldog contest, the 80/35 Music Festival. I look forward to them every year.
How Drake helped me succeed
If it weren't for the Teach in China program, I would have never discovered my passion for teaching.
After graduation, I'm looking forward to
I'm excited for the adventures. You never know what will happen day-to-day when you live abroad. The smallest tasks seem to be when the biggest mishaps happen but also end up being the best stories.
Influential professor
Shelly Fairbairn. She is head of the English as a Second Language (ESL) endorsement at Drake. She is one of the most difficult professors I ever had, but she definitely made me comfortable in an ESL setting and ready for an international teaching position because she has been in the same position. I used the assignments from her class for my teaching portfolio. During the University of Northern Iowa Overseas Recruiting Fair, the hiring manager looked through that portfolio and handed me a contract on the spot.
Sean Walsh
Post-graduation plans: Leadership development program, Allstate Insurance Co., Northbrook, Ill.
Major: Public relations
Hometown: Des Moines
Activities: Residence Hall Association, student ambassador, orientation counselor, Student Activities Board, Student Senate, Alpha Kappa Psi, Public Relations Student Society of America, Society of Professional Journalists, writer for The Times-Delphic, corporate relations intern at The Principal Financial Group, marketing intern at Greater Des Moines Convention and Visitors Bureau, politics and communications intern for the Republican Party, intern during on-campus debate for ABC News
How Drake helped me succeed
The leadership opportunities. I had the chance to attend conferences and participate in a lot of organizations. For my job at Allstate, they didn't just look at academics but my involvement as well.
Favorite Drake experience
Working as an orientation leader. It was so much fun seeing all the new students coming in and helping them get registered for classes and acquainted with campus. I was able to pass along a lot of the great parts of Drake to the new students coming to campus.
Influential staff members
Tasha Stiger and Jan Wise in the Office of Student Involvement and Leadership were great to work with. They are great resources and mentors.
Chris Wilson
Post-graduation plans: Executive team leader at Target, Ankeny, Iowa
Major: Entrepreneurial management
Hometown: Homer Glen, Ill.
Activities: Center for the Drake football team, intern at Target
What I'll miss about Drake
I played on the football team, so I am definitely going to miss that. I'll also miss meeting people from different cultures. That's the cool thing about college. You get to meet people from different countries and states.
Favorite Drake tradition
Before every football game we meet our families and some of the fans at the bulldog statue outside the stadium.
How Drake helped me succeed
The relationships faculty members build with the students. They value our success and care whether or not we are learning and show us how we can apply those things in the real world.