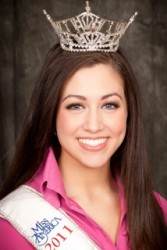 Drake University's RaySociety will host Miss Iowa 2011, Jessica Pray, on Friday, May 11, at 1 p.m. in Sheslow Auditorium. She will reflect on her experiences during her year of service to the state of Iowa. Pray, a vocal performance major at the University of Iowa, will also treat the audience to a few songs.
"People will quickly discover that she is a beautiful person, both inside and out, and her talents are many," says Teresa Bartschat, coordinator of the RaySociety.
Pray, originally from Johnston, Iowa, won the title of Miss Iowa in June 2011. She competed in the Miss America 2012 pageant in January, where she finished as a top ten finalist. During her year as Miss Iowa, she worked to raise awareness of the need for blood donors and encouraged people to donate and volunteer time with blood centers. She has volunteered with LifeServe Blood Center, Mississippi Valley Regional Blood Center and DeGowin Blood Center. She also volunteers and raises money for the Children's Miracle Network Hospitals.
Associated with Drake University and named after one of Iowa's most beloved governors, Robert Ray, and his family, the RaySociety is a lifelong learning program for adults in the Greater Des Moines community and beyond. Members of the RaySociety enjoy a diverse offering of noncredit classes, insightful, behind-the-scenes community tours and engaging campus socials.
RSVP by emailing teresa.bartschat@drake.edu, or call 515-271-2120.