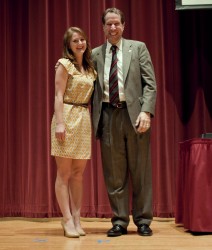 Robin Sautter, a biochemistry and molecular biology and chemistry double major, has been named the Oreon E. Scott Outstanding Senior. She received the honor at the annual Leaders and Luminaries awards ceremony on April 20.
"It is truly an honor to be considered the top senior at Drake," Sautter says. "I hope that my involvement in a variety of activities encourages other students to find their passion through giving back to the Drake and Des Moines community."
Sautter's activities and accomplishments at Drake are extensive. She served as the co-president for both Habitat for Humanity and Colleges Against Cancer. She is a member of the peer advisory board and the Order of Omega Greek Honor Society and spent time as a student ambassador. Along with being an active member of her sorority, Delta Gamma, she is also a graduate of the Adams Academy and Senior Reflections. Despite her vast extracurricular involvement, Sautter maintained a 3.94 cumulative GPA.
"After serving as a peer mentor and a member of the peer advisory board, I saw how important my involvement was for other students at Drake," Sautter says. "There is nothing more rewarding that knowing you have made a difference in someone else's life."
As part of the honor, Sautter will be one of the featured speakers at Commencement on May 13. Following graduation, she will teach English in Taiwan for one year before returning to the United States for medical school.
Those who nominated her for the award praised her attitude and personality. One nominator said her "incessant drive makes her a shining star for Drake University," while another said she is "very genuine, compassionate and fair when dealing with people."
The Oreon E. Scott Award is the most prestigious award given to a student at Drake. The recipient is considered to be the outstanding senior student at Drake as reflected in his/her involvement over their four years at the University. Excellence in scholarship, leadership, service and involvement are hallmarks of the winner. The award has been given annually at Drake since 1949.