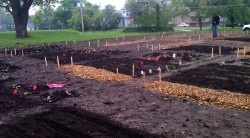 Drake University Students in Free Enterprise (SIFE) will hold a grand opening ceremony for the Amos Hiatt Community Garden on Friday, May 11 at 1:15 p.m. The garden will provide free, accessible garden plots for those in need of food assistance in Des Moines' Martin Luther King, Jr. Park neighborhood.
The community garden is located just east of Amos Hiatt Middle School and contains 24 plots measuring 10 feet by 14 feet each. Several area businesses, individuals and organizations collaborated to create this garden, including Hy-Vee, Lowe's, Elder Corporation, Hy-Vee Weitz, Des Moines Public School System, Des Moines City Council Member Skip Moore and Des Moines Public Works Director Bill Stowe.
"I am very excited about the community garden project and look forward to the grand opening ceremony," says Kody Lueders, SIFE member and project leader. "We hope this will be something the community can benefit from for years to come."
The grand opening will feature a speech from Iowa Lieutenant Governor Kim Reynolds, information on leading a healthy lifestyle through gardening, and planting the final item in each plot. Neighborhood members with plots will also be in attendance to finish their garden plots.
SIFE, now in its seventh year, aims to empower those in need so that they can improve their quality of life and standard of living. With about 30 active members, Drake SIFE is engaged in four separate projects ranging from aiding in autism awareness, to helping refugees profit from their own coffee business. For more information about Drake SIFE, go to www.drakesife.org, or contact Kody Lueders, kody.leuders@drake.edu, 712-790-7582.