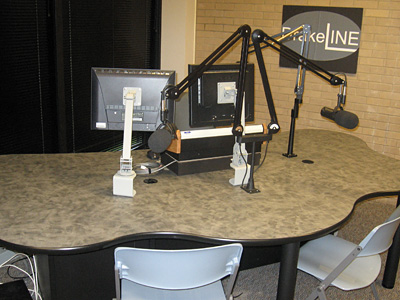 Progress continues on moving KDRA-LP's "remote" studio from Olmsted-Pomerantz to the Kragie-Newell Media Lab on Meredith Hall's first floor. The facility should be active by fall semester.
As hours for Olmsted were reduced, the broadcast faculty sought an alternative location for that gear. The new location increases exposure for the Drake-licensed, 80-watt station, and also solves some networking difficulties.
94-1 operates from 4 p.m. to 4 a.m. weekdays and all day Saturday. The station also live-streams 24/7/365.
The primary studio remains in Meredith Hall's basement. Students in JMC67 Digital Audio Writing and Production will train downstairs, normally between the weekday hours of 4 and 7. Student-funded DBS announcers generally fill board shifts starting at 7.
A Sausalito, California, company manufactured the 10-foot, 300 pound table. It can accommodate an operator and as many as four guests.
We've configured for talent and two guests.