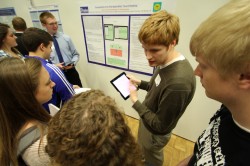 Drake juniors Ryan DuToit and Bennett Hansen learned the basics of mobile application development in an introductory course last year. When the semester ended, the two — both are triple-majoring in computer science, math and physics — wanted to boost their knowledge of mobile development and establish first-hand skills in that rapidly growing field.
They found their ideal creative outlet in the Drake University Conference on Undergraduate Research in the Sciences (DUCURS), an annual event that allows interdisciplinary groups of students to display their research. More than 40 undergraduate teams participated in the conference this year.
"DUCURS provided a strong motivation to continue our research," Bennett says. "We gained positive, relevant experience and created a product that's nearly ready to put out there in the Apple App Store."
Bennett and DuToit stayed on the Drake campus last summer, working five days a week for eight weeks in Cowles Library to complete a language studies application for the iPad. The application allows users to record their voices and then input, in text form, a transcript of what they said, including key words. Then listeners replay the recording while reading the transcript with key words in bold. Teachers could use the application to record lessons in reading comprehension, and students could play the audio lessons while reading along.
"We wrote thousands of lines of code," Bennett says. "But for all the time we spent programming, we spent much more time researching. We learned all sorts of functions that we didn't know before, including how to send recordings [wirelessly] via Bluetooth technology and how to allow users to upload files to a private, protected Web server."
This year's DUCURS conference highlighted the collaborative work of undergraduate students and faculty members from multiple majors. The event featured a poster session, luncheon and graduate career fair.
"This is something for students to include in their vitae and their portfolios," says Maria Valdovinos, associate professor of psychology and director of the Drake Undergraduate Science Collaborative Institute (DUSCI). "It's solid preparation for science, whether at the PhD level or in the workforce."
Because student scientific research is conducted in a variety of fields, the projects covered everything from technology to health.
Brittany Perkins, a junior health sciences major, partnered with 13 Drake University women's softball players to test rotating force placed on different muscle areas during throws from the infield and outfield. The theory was that longer throws would affect muscles differently than shorter throws — a hypothesis that could have implications for the way infielders and outfielders train.
Perkins, an aspiring physical therapist, worked with a "Biodex" computer muscle testing system in the Ellis Pharmacogenomics and Disease Prevention laboratory, which opened in summer 2011 at Drake and was formally dedicated April 25 following the Weaver Medal of Honor Reception.
Though she concluded that a larger test sample would have been necessary for a definitive result, Perkins says the research process was extremely valuable.
"I learned to develop a research question, find background research, develop a methodology and follow the process all the way through to application and analysis," Perkins says. "It's really beneficial, as a student, to have that base of knowledge going into graduate school and going into the professional world."